Behind the superhero costume of a cosplayer is a person wanting to make someone smile.
Cosplayers from Boston Comic Con, dressed in Marvel and DC superhero costumes, visited the Spaulding Rehabilitation Hospital in Charlestown on Tuesday to meet patients and present the comic convention's three-day premium pass to 15-year-old Matt Limoli of Billerica. Limoli missed Comic Con last year during his recovery at Spaulding. This was the second "Spaulding Gets Super" day at the hospital, which originated from Limoli's stay at Spaulding.
Limoli, then 14, was hit by a car while crossing the street with his bike on July 21, 2016. He says he doesn't remember much of the accident. Limoli spent eight days at Boston Children's Hospital and then the next 20 days at Spaulding. He was in a wheelchair from August to October and has since almost fully recovered aside from his femur, which still bothers him today.
Kim Limoli, Matt's mother, says his great-aunt, Ruby Von Dwornick, could see how upset he was for missing that year's Boston Comic Con. So, Von Dwornick decided to make some calls and bring Comic Con to the hospital. Von Dwornick was not present at this year's superhero day.
Clinicians wore matching Wonder Woman T-shirts. Cosplayers dressed as Batman, Wonder Woman, Iron Man, Captain America, Spiderman and Black Widow traveled up the elevators to the adult floors where they bantered and teased each other to entertain the patients.
"Having them come here, especially when we can't go out to conventions is personally awesome," said Amanda Oliver, 25, who has been a patient the hospital for the past month and a half.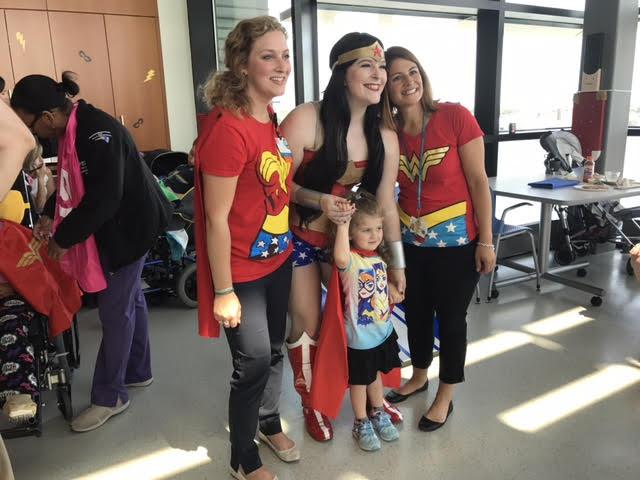 Photo Credit: Lucy Martirosyan/WGBH News
There was even a new superhero by the name of Wheelchair Man, who can make criminals see the consequences of their crime before it is committed. The character was invented by Mohammad Sayed, the author and cosplayer behind the comic series that is based on his life as an Afghan refugee in a wheelchair.
The last stop was the pediatric unit, where children dressed as superheroes, ate cake and pizza, and drew pictures of the comic book characters. One young, soft-spoken, patient dressed as Clark Kent unbuttoned his white button-down shirt to reveal his Superman costume to the rest of the superheroes.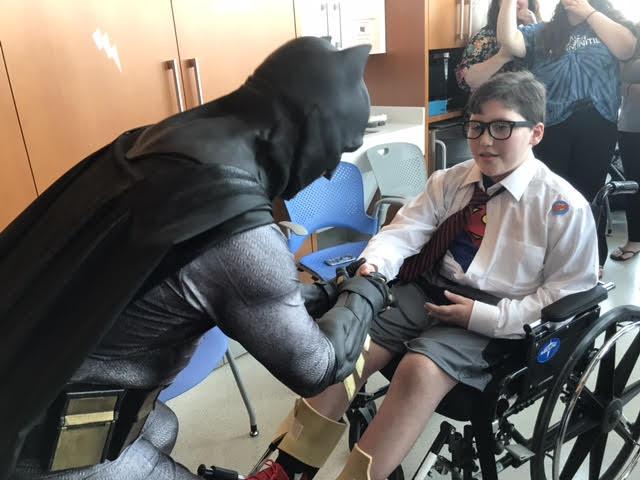 Photo Credit: Lucy Martirosyan/WGBH News
Alize Cordell is the co-founder of CausePlay New England, a volunteer organization that unites cosplayers with different communities around New England to make a difference. She dressed as Wonder Woman for "Spaulding Gets Super" and presented the three-day premium pass and last year's Boston Comic Con T-shirt to Limoli.
"He was supposed to go to Boston Comic Con [last year] and he couldn't. So it was really awesome for us to come and give him his own Comic Con," said Cordell. "It was really nice for me, too because I did get to go to Boston Comic Con. And it really puts things in perspective for you because I get to go to this thing, and this 15-year-old boy doesn't because of this tragic accident."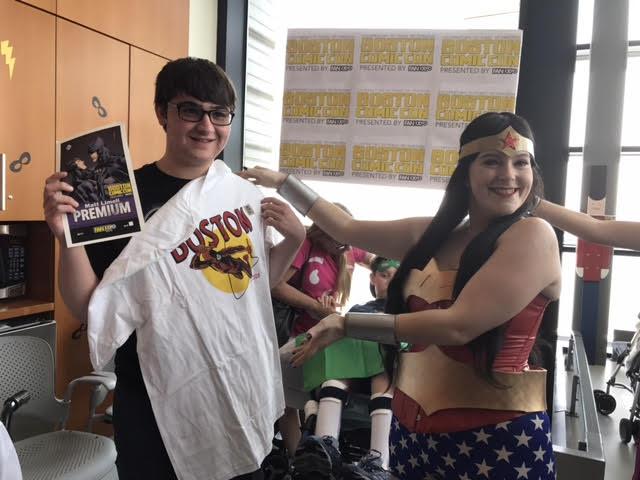 Photo Credit: Lucy Martirosyan/WGBH News
This year's Boston Comic Con beings Aug. 11 and ends Aug. 13. During the convention, Limoli will dress up as Matt Smith, the 11th doctor of Doctor Who.
"Things like this really help people come out. It raises their energy levels," said Tim Sullivan, the director of communications and media relations at Spaulding Rehabilitation Hospital. "A lot of times what we find with events we do at the hospital, when patients are back in therapy, they have a little bit more bounce in their step, a little bit of pep and energy that helps them try and get better, which is what we are all about."
Limoli says seeing the children happy to see the cosplayers made him happy. Maybe one day, when he's older, he might dress up in a superhero costume for patients at hospitals, too.
This post has been updated to reflect Alize Cordell's involvement with "Spaulding Gets Super."