A rally was held Thursday afternoon at the Massachusetts State House asking Gov. Charlie Baker to lend his support to Francisco Rodriguez, a janitor at MIT who is being held in detention at the Suffolk County House of Corrections on immigration violation charges. Supporters also issued a letter to the governor written by Roxana Rivera, the vice president of Rodriguez's union, 32BJ SEIU. This effort was led by Rodriguez's 10-year-old daughter Melanie.
Shawn Neudauer, chief regional spokesman for Immigration and Customs Enforcement (ICE), answered some of the key questions surrounding Rodriguez's detention and possible deportation.
Some are wondering why ICE is focused on Francisco Rodriguez rather than undocumented immigrants accused or convicted of murder, robbery, rape and other clearly identifiable crimes. Why target a 43-year-old MIT janitor, father of two — with another on the way — who by all accounts is a stalwart of his community? 
"There are people who have committed very few and no crimes whatsoever who are still here in this country illegally," Neudauer said. "And like any other law enforcement agency, we cannot ignore violators when we see them. We have to act."
======================================================================================================================
LISTEN: 

======================================================================================================================
Rodriguez's supporters have marched and rallied at ICE headquarters, the JFK Federal Building and now the State House to try to pressure ICE to rescind its deportation order. Neudauer admits that the high visibility campaign could work to Rodriguez's advantage.
"The protest and rallies, I think ICE supports the fact that we're a society that welcomes dissent and discussion," he said. "We deal with protest and rallies the same way that everybody else does. I think at the end of the day, yes there are some people [at ICE] who say 'Hey, we've got all these people that are making a lot of noise about something' ... and if there's a lot of strong opinion about it, absolutely we'll take a second look."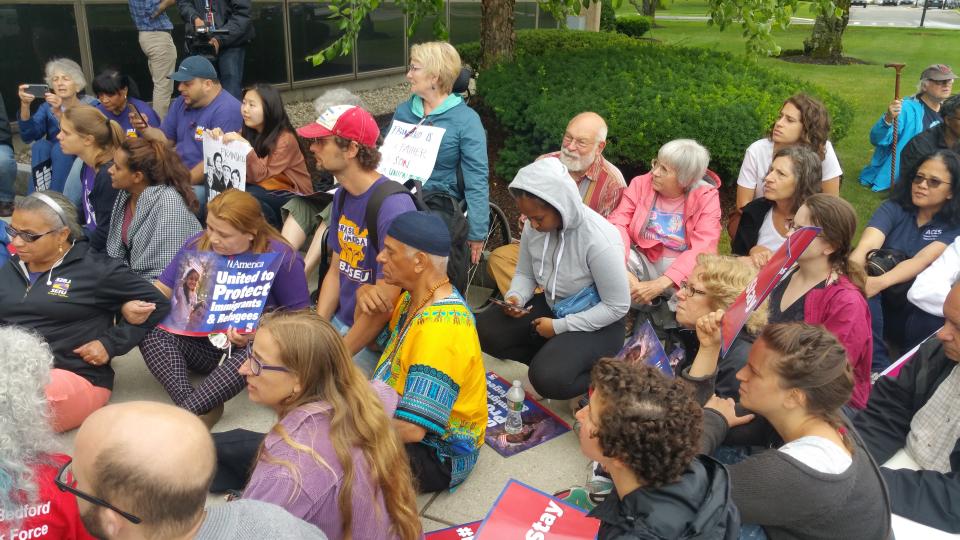 Photo Credit: Phillip Martin/WGBH News
But public attention could also have an opposite impact, says Neudauer, pointing to recently deported Irish immigrant John Cunningham, who ICE says may have slipped under the wire had he not been so outspoken. 
"John Cunningham probably was not a priority, but it was a case that was brought to our attention and, again, like any other law enforcement agency, when something is brought to our attention, we have to act," Neudauer said. "We have a responsibility. We have a sworn duty to uphold the law and carry out the law. Mr. Cunningham is now back in Ireland. Was he the poster child for criminality? No. By all accounts he was probably a pretty upstanding individual who had made some mistakes, but the fact is he did make those mistakes ... He stayed well beyond the time when he should have left."
Friday afternoon, Rodriguez's attorney Matt Cameron sent the following statement in response WGBH News' interview with ICE regarding his client:
"We appreciate that ICE has heard the more than 10,000 calls, petition signatures and letters they have received from the public — as well as statements of support from Boston's entire federal Congressional delegation, Gov. Baker and MIT — and is now willing to give this case a 'second look.' We hope that this second look will acknowledge the simple fact that this dedicated family man with no criminal record is being held in custody at taxpayer expense as his wife's high-risk pregnancy approaches her scheduled delivery date of August 3rd. Even the strict priority enforcement guidelines introduced by the Trump administration in February continue to allow for discretionary case-by-case relief (including supervised release) in these kinds of urgent humanitarian situations, and this is all we have ever requested from ICE in Francisco's case.

We are concerned that continuing to direct ICE's limited personnel and resources toward cases like Francisco's is a misuse of public funds. While we understand that this administration has abandoned the "felons, not families" model employed by the previous administration in favor of a broader net, we believe that ICE's handling of Francisco's case (and so many others of which we are aware) to date justifies public concern that our nation's immigration enforcement priorities are now with "families, not felons."
Cameron has filed for a stay of deportation, but it is not clear when a decision will be made on this request. He could be detained for a few days or a few weeks and then deported. The only issue that is clear is that U.S. Judge Richard Stearns has specified to ICE that Rodriguez should not be removed to a detention center out of state, which is often a decision made at the discretion of immigration officials with little recourse from lawyers.