Last week's deportation of a local man and the pending deportation of another is raising questions about the Trump Administration's stepped-up enforcement of immigration laws. The cases reflect many similarities, including the fear rippling through immigrant communities of every kind. But there are also major differences.
Thirty-eight year old John Cunningham is from Ireland. Francisco Rodriguez, 43, is from El Salvador. They are from countries 5,000 miles apart, but the men have much in common. 
They both entered the US more than 10 years ago. Both — according to those who know them — are hardworking, paid their taxes, and were considered to be upstanding residents of their respective Boston-area neighborhoods.  
And there is something else that Rodriguez and Cunningham had in common: Both were in the country illegally, and both men were informed by the U.S. government that they were to be deported to their home countries. Cunningham was sent back to Ireland last Wednesday and Rodriguez faces possible deportation this week.
John Cunningham is a self-employed electrician who arrived in the late 1990's on an Aer Lingus flight. He told a an Irish documentarian that coming to the U.S. was an easy decision, and staying here was just a matter of settling in.
"When you're young it's all great, and  ... all of a sudden you end up with commitments here," he said. "You have a home, and your job, and work, and it becomes your home."
Rodriguez is college-educated but scrubs floors at MIT.  He crossed the Rio Grande to get here.
"When I came to the United States, I crossed the river.  I came close to 11 years [ago] now. I have three children," he said, "all born in the United States."
Advocates for undocumented immigrants suspect both came to the attention of Immigration and Customs or ICE for the same reason: their outspokenness about their undocumented status. Cunningham was also accused of cashing a $1,300 check for electrical work he didn't perform. Earlier this year, he was featured in an RTE Ireland "Prime Time" documentary about living in the shadows and how quickly one can turn from being a visitor to a resident.       
"All of a sudden you turn around, and so much time has gone by," he said, "and, you know, you start to realize what is going to be in store for the future."
Cunningham's future in this country, for the moment, is over. He was picked up by ICE in mid-June, transported to an immigration unit jail cell at South Bay (Suffolk County Jail House) and suddenly deported.
Rodriguez was also imprisoned in South Bay, in 2011, just before Christmas. Upon his release, Rodriguez was ordered to check-in annually with immigration officials. So, a few weeks ago, he showed up at the JFK federal building in downtown Boston with 40 supporters to apply for a stay of removal. Toward the end of that meeting Rodriguez was told to report back in December.  But just five hours later, he said, "They called and said 'no, come with a travel ticket on July 13."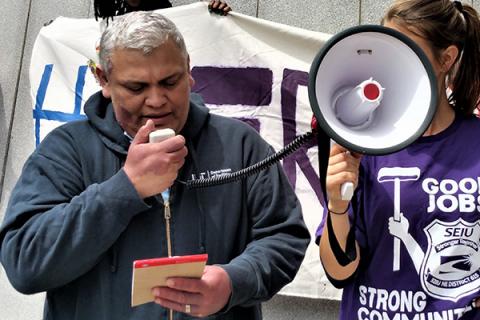 Photo Credit: Phillip Martin/WGBH News
He said going back to El Salvador would present many dangers for him and his family because of widespread gang violence in the country. But his deportation, like Cunningham's, seems inevitable, according to Shawn Neudauer, a spokesman for ICE, who told WGBH that Rodriguez entered the country illegally and "will be sent back."
But this is where the similarities between the two men end, said Amy Grunder, director of legislative affairs at the Massachusetts Immigrant and Refugee Advocacy Coalition (MIRA). 
"I think the main difference is that people are not used to seeing an Irish immigrant case," said Grunder. Another difference, she added, is the prominence given to John Cunningham's story in the media.   
"There are so many other cases that are similar," she said. "There are other people not from Ireland are also being targeted, and I don't think they get the same level of play.  And that might have something to do with the historic relationship of the Irish in Boston."
Large numbers of Irish immigrants made their way to the U.S. in the 1980's as recession ravaged Ireland. Many were granted citizenship under special rules sponsored in Congress by the late Senator Ted Kennedy and others. But those special rules no longer apply. 
"I think the acting director of ICE made it clear in his testimony to Congress that there [is] no class or category of immigrant that [is] safe," said Ronnie Millar, originally from Belfast. He is the executive director of the Irish International Immigrant Center — established in 1989. The center, these days, represents immigrants from nations around the world, including many fighting deportation to El Salvador.  
"We all have this shared experience, whether you are from Central America, or from Africa, or from Ireland -- we're all in this together. And we all need to stand together and come together as a community," he said.
But while the Irish International Immigration Center — a member of the MIRA coalition -- has stood with immigrants from everywhere in their efforts to gain citizenship and permanent residency, grassroots Irish immigrants are rarely represented at immigration rallies. According to various studies, there are an estimated 700,000 Salvadorans in the U.S. without legal papers. The estimated number of Irish is 50,000. Ronnie Millar warns his countrymen and women –from Donegal to Dublin to Belfast -- that the days when undocumented Irish thought they could slip under the radar are over.  
"There hasn't been a targeted sort of campaign on Irish immigrants, but statistically, the number of detentions has dramatically increased this year over last year. So we're trying to encourage people to remain very calm but to be prepared, if you're undocumented, ... for that knock on the door," said Millar. 
Meanwhile, an ICE official told WGBH that both John Cunningham and Francisco Rodriguez were in the country illegally, and that is all that matters.