Tammy  — a woman in her mid-30s — stands on a pier in New Bedford holding a baby and waving in the direction of the Atlantic ocean as her boyfriend's boat edges toward shore.
 Asked how the work is going, Tammy said, "Oh, pretty good I guess. They always [have] work, so they're always busy, month to month to month ... I don't hear no complaining over here with their boat."
Another scallop boat docked just yards away is captained by a fisherman named Lionel, and manned by a crew that includes his college-educated son, Tony.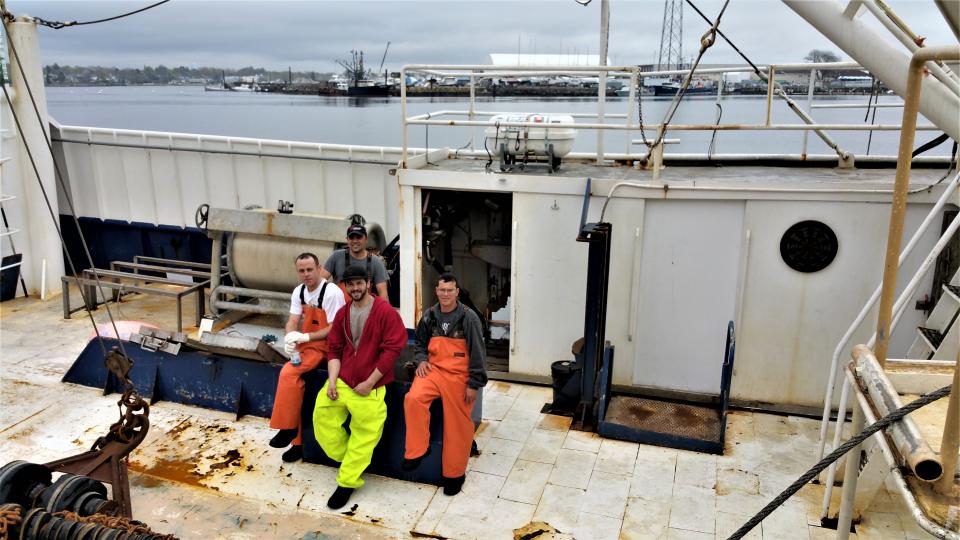 Photo Credit: Phillip Martin/WGBH News
"I used to fish with these guys a long time ago, but I took a short break," Tony said. "Now, I'm back on here to pay off my college loans." 
And the fish houses here in New Bedford — buffeted for years by the ebbs and flows of ground fish profits — are today flush with cash.
"There's not the ground fish industry that there used to be here in New Bedford, but scallops have more than picked up in the interim."
Sean Moriaty is Vice President for Sales at Blue Harvest Fisheries. "Where the last few years, the harvest was down in the 35 to 40 million pound range, we think this year it will be up to 50 million pounds, so significant volume being landed. The prices of scallops, as the quota went down, jumped up significantly, as much as a 50 percent increase in price."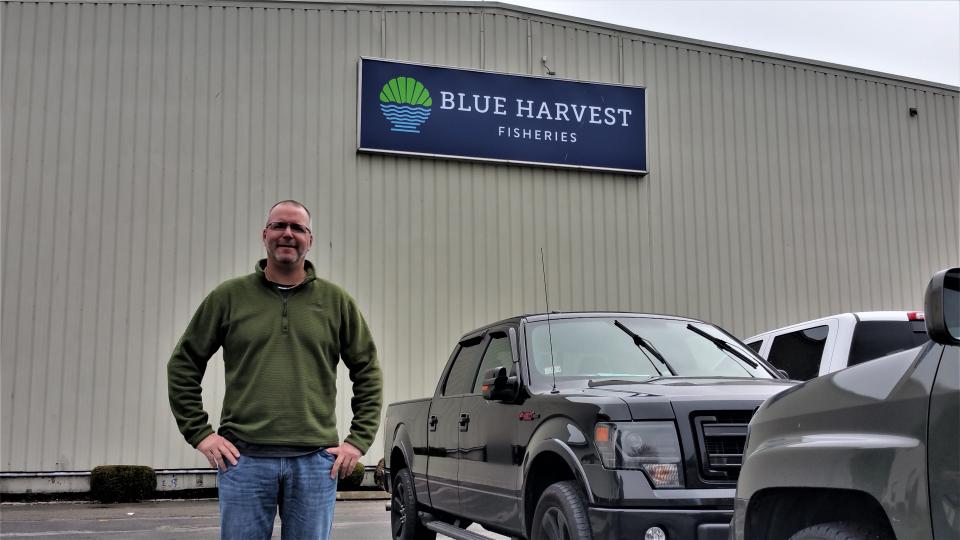 Photo Credit: Phillip Martin/WGBH News
And Moriaty said that's due in no small measure to the French, who are the biggest buyers of U.S. scallops. And that affinity for coquilles Saint-Jacques is doing wonders for the city, says New Bedford's Harvard-educated mayor, Jon Mitchell.
"New Bedford is the largest commercial fishing port in America by value of annual landings, and we are the center of the commercial fishing industry on the east coast," he said. "Landings here in New Bedford are about eight times the size of what they are in Gloucester and the Lion's Share of the landings nowadays, as measured by dollars, are in scallops."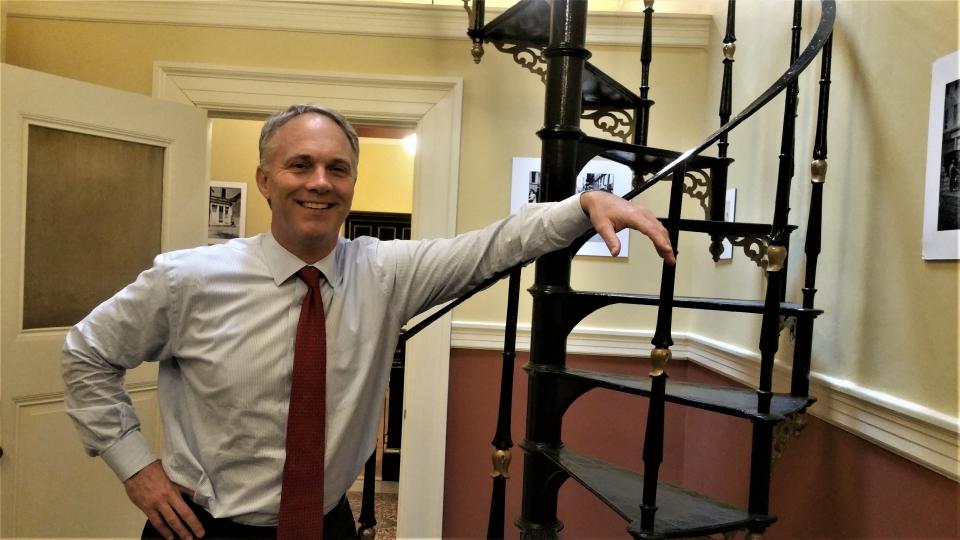 Photo Credit: Phillip Martin/WGBH News
New Bedford has seen the sharpest drop in unemployment this past year among more than 300 cities surveyed by the Bureau of Labor Statistics. It has one of the fastest growing art scenes in the area; revived music festivals and a proliferation of new downtown restaurants and re-invigorated older ones.
"The name of the restaurant here is Freestone's City Grill," said Joe Costa, the restaurant's manager. "Freestone's has been here in downtown New Bedford since 1979, so 38 years now." 
And Joe Costa says business is good. "Much better. There was a time when Freestone's City Grill was one of the only restaurants in downtown, and now there are many restaurants downtown. Everyone's doing really well, everyone's doing very well."   
Costa says the fishing industry is contributing mightily to the success of the restaurant business. "We get the freshest product possible. Right here. Everybody gets it," said Costa. "Downtown New Bedford is known for its scallops. Scallops are really ... they're like currency. It's amazing."  
And that metaphorical currency is being doled out broadly across New Bedford's business landscape.
"Carter's Clothing. Kind of a dinosaur, been here for 70 years. My grandfather started it and [it's] chugging along, just kinda going with the flow," said Kevin Carter. He runs Carter's Clothing, which has been a New Bedford feature on this cobblestone road for decades. Fishermen and businessmen alike buy clothing, says Carter, and he's having one of the store's best years in memory.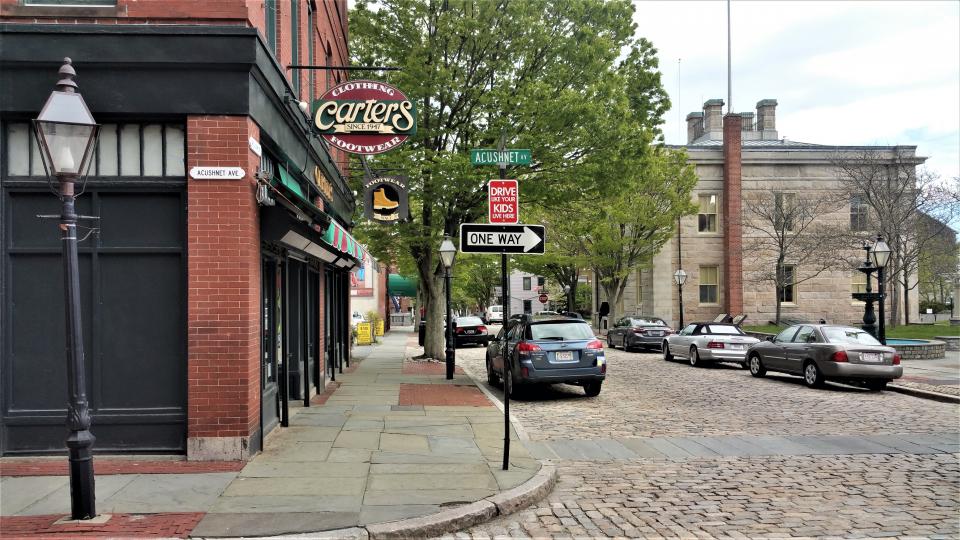 Photo Credit: Phillip Martin/WGBH News
"A lot of new money coming into the area, restaurants popping open, a boutique hotel under construction as we speak," Carter said. "Tourist season, we see more and more every year. It's been a great uptick."
But the scallop boom fueling New Bedford's growth could also be the city's downfall. It's a fear underscored by Tony, the fisherman.
"Today we got bad news," he said. "There's a lot of boats bringing in 50 to 60,000 pounds from this new area that opened up down below New York, and that's affecting the price because we get paid supply and demand."  
And that's one of the reasons that New Bedford has been working to diversify its economy and job force, with new manufacturing and planned investments in the wind power industry. But the principal focus, said Mayor Jon Mitchell, is on expanding New Bedford as a major tourist destination on the east coast. With 700 artists living here, the music festivals and new restaurants, and a maritime history that inspired Herman Melville's "Moby-Dick," Mitchell sees New Bedford in the image of two cities — one to the north, one to the south.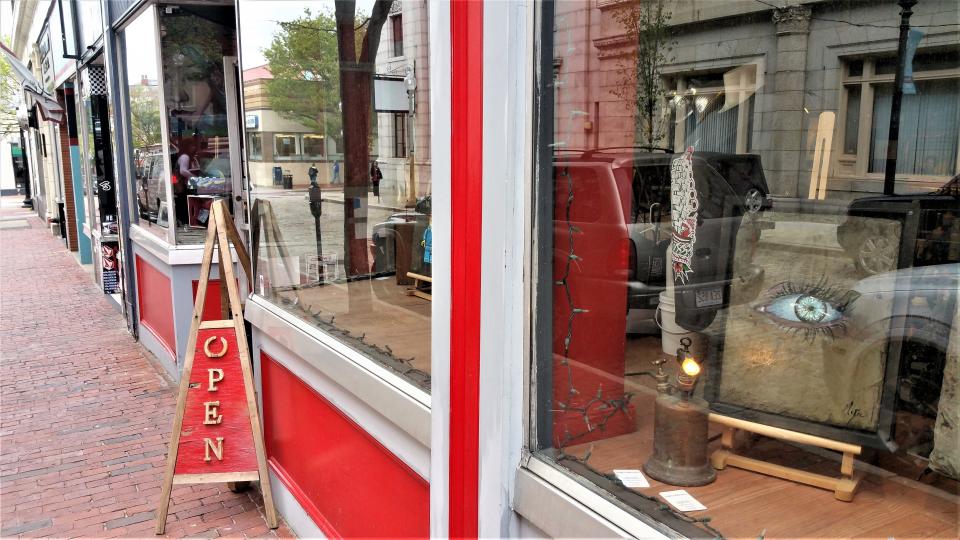 Photo Credit: Phillip Martin/WGBH News
"We look at places like Portland (Maine) — which is smaller than New Bedford, but a place that has a good mix of maritime and artistic assets — as a good model for us," said Mitchell. "Another one that's bigger is Charleston, S.C., a place that has seen a lot of success because it's capitalized on its distinct architecture, its arts community, as well as a really vibrant restaurant scene."
Mitchell said as much as he would like to emulate those two cities, he has one thing that they don't: scallops.