Usually school districts like seeing their name high on national rankings.
But Boston Public Schools is not happy to be near the top of one list: They are among the biggest spenders when it comes to busing.

During fiscal year 2017, more than 10 percent of district's budget – $116 million dollars – went to transporting kids to and from school. That works out to about $2,000 per kid per year.
According to recent data from U.S. Census Bureau, the average large school district spends around $350.
Why does Boston spend so much on school transportation?
The Legacy Of Busing
At Haley Pilot School in Roslindale, classes are just ending and school buses are lined up outside, engines puffing away.
José del Valle is behind the wheel of one of them. With a hearty, "Hello! How you doing?" Del Valle welcomes students on board. Back in the 1970s, he was one of those kids riding the bus each day.
"I remember that every bus had a monitor," says del Valle of his years as a youngster on Boston's school buses.
The adult was there to keep the peace during the tumultuous early days of busing in Boston. After a court order in 1974 to desegregate schools, students like del Valle stopped going to their neighborhood school and started crisscrossing the city in big yellow school buses.
Del Valle traveled from Dorchester to West Roxbury for middle school.
The legacy of desegregation is a school choice policy where students often travel long distances to get to school.
While the assignment system is in the process of changing to a home-based model, there are still plenty of lengthy trips. On any given morning, kids from one block could be going to schools in different corners of the city. That requires a lot of buses because officials have decided kids shouldn't really spend more than an hour on the bus each way.  
"What ends up happening is that with an hour you're not able to fill the bus to full capacity," says Jonathan Steketee, director of transportation for Boston Public Schools.
Empty Seats
"Right now, we are right around 49 percent full for buses," says Steketee.
The buses are about half full if every single kid assigned to a route takes the bus that day. As Steketee explains, every youngster who lives more than a mile away from their school – or a mile and a half if the kid is in 6th grade – gets a bus route.
But there's a catch. "We know how many students go to school," Steketee says. "But whether or not they ride the bus is a challenge."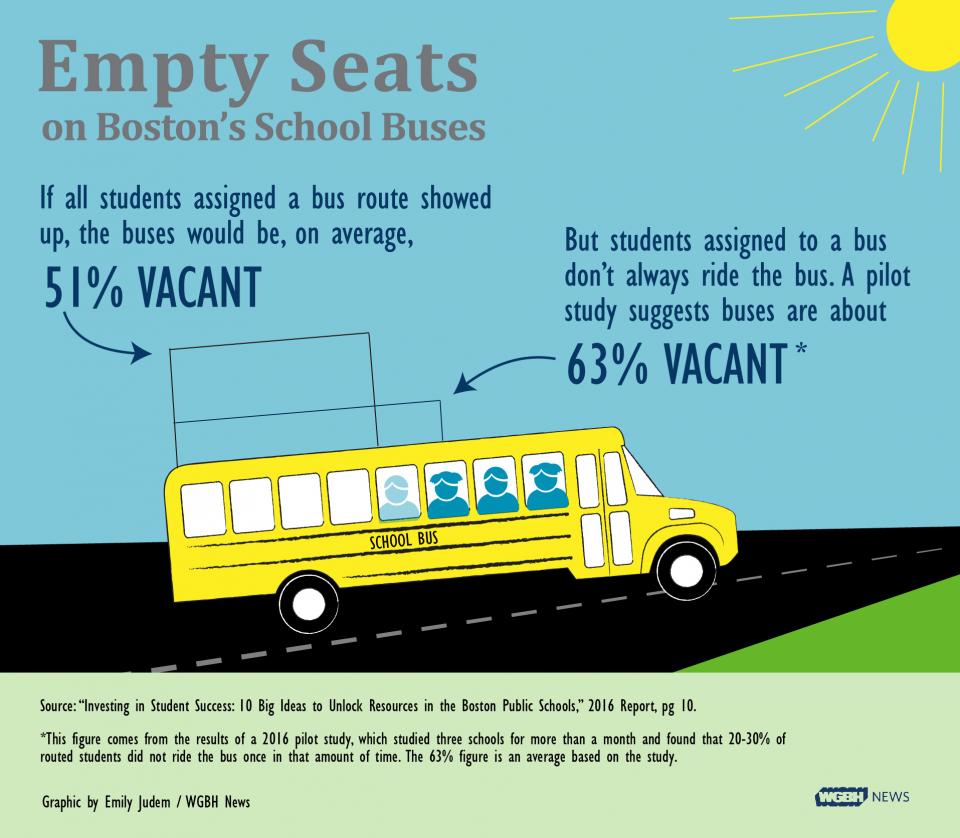 The district doesn't actually know whether a student is getting on the bus each day or whether they're catching a ride with a parent.
At Haley Pilot School, there are 17 school buses ready to head to different corners of the city. But exactly how many students are on del Valle's bus?  "Right now, I only have three today," he says.
Each day is different: "I might get eight or 10 [students] one day, maybe four one day."
Steketee tells me the district is working to make it easier for parents decline a bus route for their kid. And they are in the beginning stages of tracking a few buses to figure out how many students are riding each day.
José del Valle's bus is one of them. Now, every rider taps a card and with a little 'beep' the district gets valuable data.
Very early results suggest that up to a third of kids assigned a bus route are not riding even once during the month they studied. That makes for a lot of empty seats.
A Longer Litany of Challenges
To make things even more complicated, Steketee says, by state law, Boston Public Schools has to transport kids to private, parochial and charter schools within a certain distance.
Also, "Boston has a lot of students with special needs accommodations because of that you have door-to-door transportation" which is more expensive than a bus stop on the corner.
And there's another factor. Kids are often moving into the district and moving within the district. That means school bus routes are constantly changing.
"Public buses – they run the same route every day. We actually route and schedule and do updates every week," says Steketee.
All of these factors and the rising price of transportation have prompted Boston Public Schools to invite academics, parents, and corporations to help brainstorm how to fix the system.
In Part Two of the series we'll look at some ideas for how the district can save money – and why some community groups are worried.
WGBH's coverage of K-12 education is made possible with support from the Nellie Mae Education Foundation.