WGBH's Henry Santoro sat down with Mike Snow of the Boston Calling Music Festival. Below is an edited transcription of the interview, which you can listen to by clicking on the audio file above.
Henry Santoro: It didn't take long for springtime in Boston to become synonymous with the Boston Calling Music Festival. The festival, founded in May of 2013 by Crash Line productions, quickly escalated to one of the premier music festivals in the country turning Boston's City Hall Plaza into a haven for fans of many different genres of music. Well this year, Boston Calling is being held at its new location at the Harvard athletic complex in Allston. And it's not just about the music. There's amazing food and a great lineup of top notch comedians. Here to bring us up to date on all things Boston Calling is the festival's co-founder, Mike Snow. Morning Mike. How are you?
Mike Snow: Hello.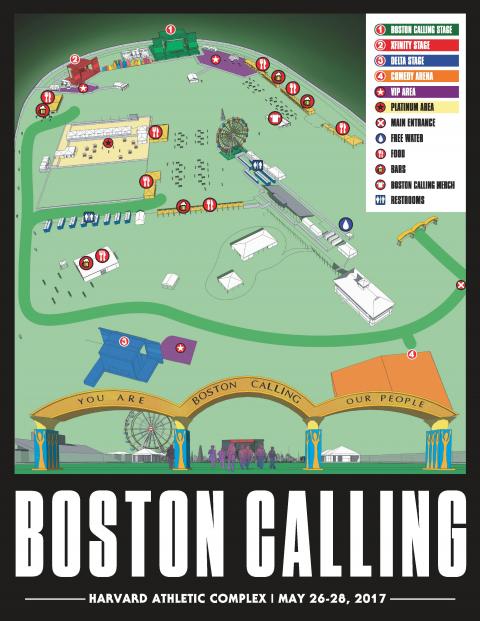 Photo Credit: Bostnncalling.com
HS: You and I had an email conversation several months back when we were discussing Boston Calling. And at that point the decision had been made to move the film festival from City Hall Plaza to Allston. And you wrote to me either go big or go home.
MS: That's right and it's proving to be big and I'm not allowed to go home anymore.
HS: What are the advantages of moving that festival from City Hall Plaza to Rock City Allston?
MS: Well for people who don't have an understanding of it clearly, it's softscape right? That plaza is a wonderful place. I know every brick. I've celebrated many a day on and off said bricks, you know, and now you're moving out of something that's sort of very hard on your body and feet to a wide open grass AstroTurf friendly aesthetic vibe on the environment that you can enjoy the festival. And then the easy black and white part of it is you're going from like 6 acres to 16. And that's just where we can function more as a festival, right? More art, more food, more things that aren't bands. And then even more bands. We get to go from two stages to three stages.
HS: And, the reason that you have these stages is because when one band ends on one stage immediately the next band starts from the other?
MS: That's right. So, you know our lay out out here being a little bit larger we get to do that same thing. So, we'll have green and red will bounce back and forth from each other and then we get our stand alone blue stage which will function you know autonomously on its own schedule.
HS: Close to 50 bands will converge on the Harvard athletic field for the event?
MS:  We've got a great mix this year. I mean we've got Chance the Rapper, Bone Iver, The XX ,Tool, Mumford and Sons, Weezer, Sigur Ros. Those are kind of … I guess … what you'd call in the headliner slots, and then we work our way through some locals. So yeah, it's heavy.
HS: And, a bigger venue as we talked about — from 6 acres up to 16 — means more places to put stuff. You've added some amazing food to the mix this year, and the food has always been something that has been very special for Boston Calling because it's not just your run of the mill food festival?
MS: Yeah, we looked at it as being down at City Hall Plaza. You know, we had Quincy Market, and we had great bars and restaurants surrounding that. And we only had like six spots to do food. So, it was like well if we're going to give those six spots up ... we'd better put something great in. Now I get to put like 25 [to] 26 great vendors in the same hall, and now you look at it almost like a lineup. You can build something, right? You can take care of such a wide swath of people vegetarian, vegan, gluten-free. Straight through to getting your burger, pizza or French fry and you know everything in between.
HS:  But this year you've added something that's near and dear to both of our hearts. It's true — very true — that you've added the Smoke Shop, the newest and most unbelievable barbecue restaurant in Cambridge. They will be there this year.
MS: It's true.
HS: The Boston Calling music festival is happening May 26th through the 28th at The Harvard Athletic complex in beautiful Rock City, Allston. Thank you so much for coming in.
MS: Thank You.