India Cabot's junior prom was Saturday night, but instead of sleeping late on Sunday morning she's sitting in the basement of a building at Harvard, pressing her hair out of her face with both hands. Slapped onto her shirt is a nametag with her name written out carefully, phonetically, in Cyrillic.
"I'm so tired, I'm dead," she says. "I danced my face off last night."
Cabot and her friend Kaley Arnof are preparing for their turn competing at the Olympiada of Spoken Russian. In a few minutes they'll disappear into a conference room with native Russian speakers on the other side, who will test their ability to hold a conversation, recite poetry, and demonstrate their knowledge of Russia's history and geography — entirely in Russian.
If that sounds difficult, it's because it is. As the event's organizer, Cris Martin, likes to say, "It's a special kind of student that takes Russian." That's pretty clear from glancing around at the students clutching their notes and poking at the beet-and-pea salad and chicken kotletki (or cutlets) being set out for lunch.
Because they're in high school, when their teacher leaves the room a group of boys pluck a clump of helium balloons off a table and begin sucking the air out of them. Because they're here, when they talk in their new, helium-altered voices, they do it in Russian.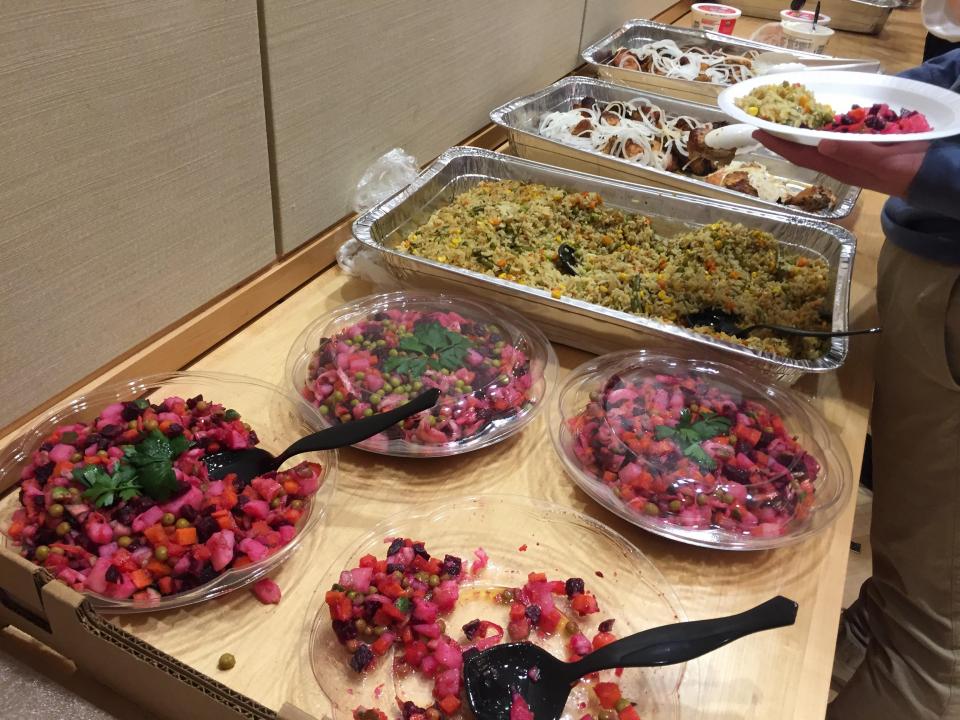 Photo Credit: Amanda McGowan
Founded at the height of Cold War in the 1960s, the Olympiada once drew hundreds of high school students from schools all over New England. But as tensions eased and interest in the region fluctuated, so did the number of schools offering Russian language programs. According to a 2008 survey from the Center for Applied Linguistics, Russian is taught in only 0.3% of the nation's secondary schools.
As the number of programs shrunk, so did the competition. A few dozen students now compete, the vast majority from the private Cambridge school Buckingham Browne & Nichols, with a handful of others from Russian cultural centers and, occasionally, from Glastonbury, Connecticut. Yet there are still sixteen other recognized regional chapters around the country, and once every three or four years a group of American students is selected to compete at the International Olympiada in Moscow.
Joshua Walker, who runs the Russian language program at BB&N, has seen the language rise and fall in popularity over the course of his career.
"When I showed up to college in 1997, it was like a lot of other colleges where they had these massive Russian programs with a lot of professors, and there were maybe six of us taking the program," he says. "It was an ironic stage in Russian studies. Suddenly, it was so possible to go to Russia. It was under Yeltsin, the borders were open, as an American you could study there with no problems ... and yet attendance in Russia programs started plummeting."
But this year Walker says he's had one of the biggest yields for new Russian students, perhaps a reflection of the country's growing importance — yet again — in U.S. foreign affairs. To illustrate the point, he plays a game in his classes to see how many pages in the New York Times they can go through before hitting a story about Russia.
"Usually we get stopped even before you hit below the fold," he says.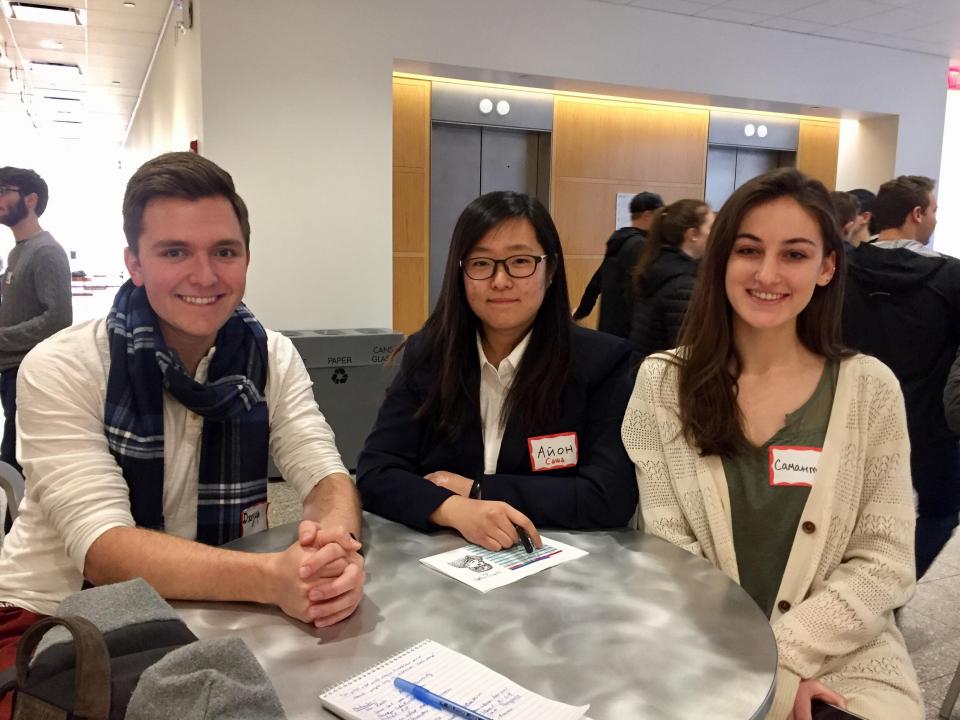 Photo Credit: Amanda McGowan
This year the competition has expanded in a new way: by including college students for the first time. A group of them are gathered outside the Davis Center auditorium, which is currently screening a few Soviet-era slapstick comedies. (One called "Ivan Vasilievich: Back to the Future" is about a hapless engineer who accidentally sends his building's super back to the era of Ivan the Terrible.)
Ayeon Lee and Samantha Pannone are both students at Northeastern and graduates of Staten Island Technical High School in New York, where — in a Cold War holdover — Russian was the only foreign language offered.
As part of the competition, they've had to prepare monologues about their lives, and they've been brushing up on some idiosyncratic phrases to sound more authentic. For example, if someone tells you "good luck" in Russian, you say — wait for it — "go to hell."
"It's not offensive," Pannone clarifies quickly. "It's like 'break a leg.' Other people from other countries wouldn't understand why we say that."
You can imagine a miscommunication like that quickly tanking a diplomatic meeting—a scenario not lost on Joseph Hasbrouck, a freshman at Harvard from Pascagoula, Mississippi. In fact, it's why he was interested in the language in the first place.
"There seemed to be a need diplomatically today to have more people who are able to interact with people in Russian," he says. "I think part of our problem is we can't maybe effectively communicate."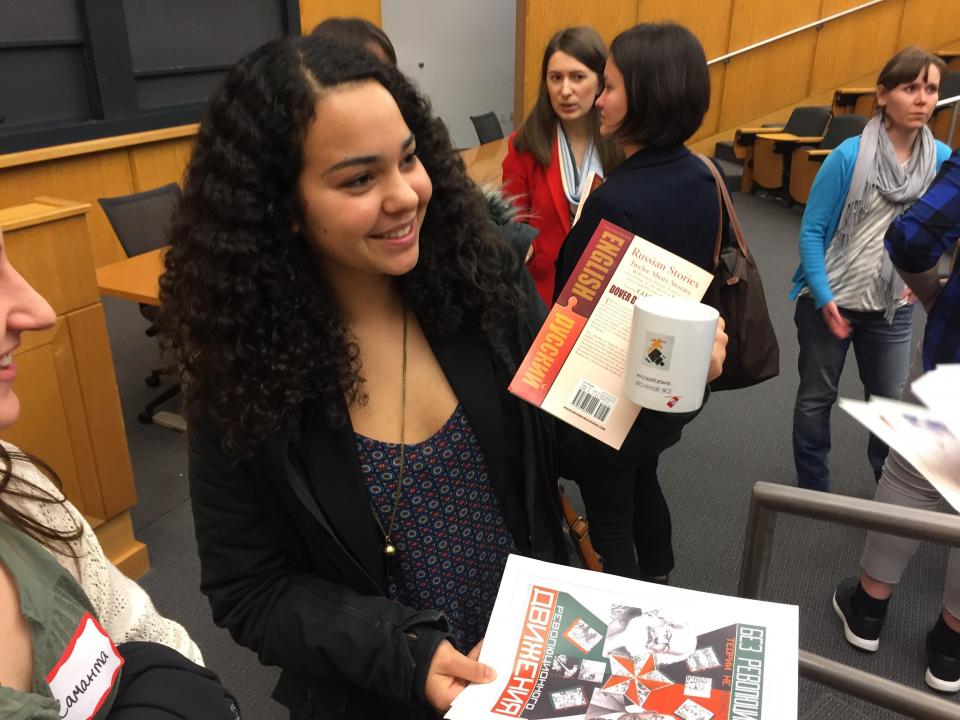 Photo Credit: Amanda McGowan
Like Joseph, many of the students at the Olympiada are interested in someday working in diplomacy. Others have personal connections (Cabot's brother recently married a Russian woman, for example) and some are just drawn to the challenge.
But that's not all. Sean Hunt, a BB&H senior who goes by "Shurik" in class, is aiming for a career in professional sports management. Specifically, in basketball. More specifically, with the Brooklyn Nets.
It seems surprising at first when he mentions that, when visiting colleges, a strong Russian program topped his list of concerns. But then he explains. About those Brooklyn Nets?
"The owner is actually Russian," he points out.
Later in the afternoon, the plug is pulled on "Ivan Vasilievich" and college students migrate into the auditorium for the awards ceremony. (The high school students receive their marks directly from the ACTR, and won't get them until later.) Lee, Pannone and their classmate Isabella Ragazzi are gathered near the podium, balancing a pile of prizes between the three of them. Lee shows off her new propaganda poster of the Red Army, and Pannone, who won second place, has a book of Russian short stories printed side-by-side with their English translations.
Perhaps best of all is the ceramic mug Isabella has won for third. It's unassuming, with a small message in Cyrillic printed on the front in faded colors. But the text is the real draw.
"It says, "Russian language is everything to us," Ragazzi translates, and laughs.