There's no question Rock and Roll Hall of Fame member John Oates can write songs. He and fellow musician Daryl Hall teamed up in the 1970s and 80s to become America's number one pop duo "Hall & Oates" and record more than 20 albums that sold 60 million copies. Together, they wrote six number one hits from six consecutive multi-platinum albums that featured such smash songs as, "She's Gone", "Rich Girl", and "Maneater."
The 68-years-old musician recently released his memoir, " Change of Seasons." In two months, the Hall & Oates duo will embark on a 29-city North American tour that kicks off in Tulsa, Oklahoma on May 4 and includes a stop at the Boston Garden on June 24.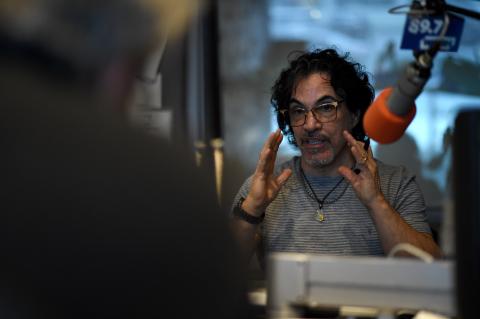 Photo Credit: Meredith Nierman WGBH
Oates visited the WGBH studios for an exclusive interview with WGBH's Henry Santoro and shared many of the stories that appear in the book.
Co-written with Chris Epting, the memoir features a number of stories about his life growing up in a big Italian family in New York City and his family's move to Pennsylvania. The 388-page book also covers his musical beginnings, his partnership with Daryl Hall and their connection to Philadelphia. (Don't skip the parts in which he talks about his love of the Temptations and all the trappings and pleasures of a roll and roll life.) And, there are a number of black and white photos from some of the duo's best recording moments — the day they signed their first recording contract in 1972 with Atlantic Records, backstage at the Bijou in Philly, and a classic 1973 photo outside an abandoned luncheonette, which became the title of one of their albums. 
Below are some audio excerpts from the interview.
Daryl Hall/Beginnings/And The Apollo Theater:
Oates and Hall attended Temple University. Their paths crossed, they went their separate ways, and then met up again to form the "Whole Oates" band. Both had had an affinity for the Temptations.
The Story Behind The Hit Song, Sara Smile:
Oates met a woman named Sara and introduced her to Hall. Hall and Sara fell in love, but after 31 years go their separate ways. The song was a postcard to Sara.
A Meet-Up With George Harrison:
A mutual friend introduced Oates to the Beatle. They bonded over race cars and music. Harrison wound up collaborating with Oates under very specific conditions.
Two Words...Andy Warhol:
Oates had a chance to hang out with Andy Warhol and a missed opportunity to receive a special gift.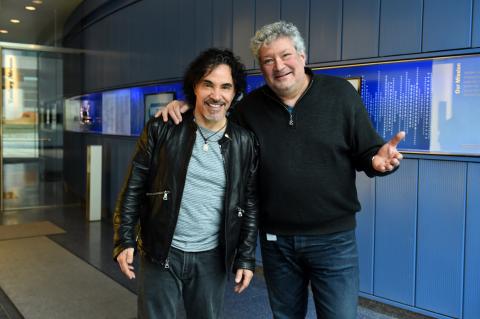 Photo Credit: Meredith Nierman WGBH
To listen to the interview that aired on WGBH'S Morning Edition with Henry Santoro click on the audio file at the top of the page.