Two advocates for migrant laborers in Vermont were released on bail Monday after being detained by Immigration and Customs Enforcement (ICE) earlier this month. 
Outside the John F. Kennedy Federal Building, where the bond hearing was held Monday, hundreds of protesters marched and chanted. "Up, up with liberation! Down, down with deportation!"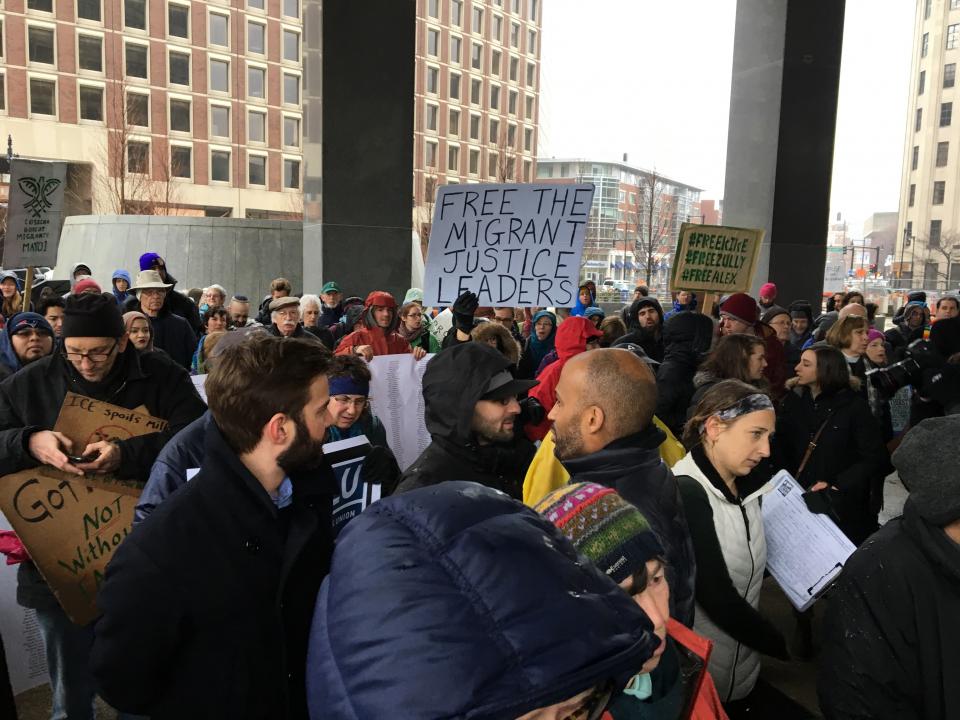 Photo Credit: Craig LeMoult/WGBH News
 
They came out in support of Jose Enrique Balcazar Sanchez, 24, and Zully Palacios Rodriguez, 23. Earlier this month, the couple was intercepted by undercover ICE agents soon after leaving the offices of their group Migrant Justice in Burlington, Vermont. They were detained for being in the country illegally. Their attorney, Matt Cameron, claims ICE was targeting them for speaking up for migrant workers.
"There's nothing, absolutely, about Enrique that would set him apart other than his outspoken advocacy for his community," Cameron said. "And I think that's why we're here today."
He added that Palacios Rodriguez was investigated by an ICE unit that usually targets terrorists and gang members, despite her having no criminal history.
 
The two received letters of support from Sen. Bernie Sanders and the board of Ben and Jerry's, with whom they've been working to secure better conditions for migrant dairy workers. 
 
ICE released the following statement, noting that these were lawful arrests and that the agency does not target individuals based on political activism:
"ICE officers conduct targeted arrests of criminal aliens and other immigration violators. ICE does not target individuals based on political beliefs or activism.

The reasons for the recent arrests in Vermont has already been addressed publicly. On March 15 ICE officers arrested a 23-year-old Mexican national who was charged locally with a DUI and self-admitted to federal authorities that he unlawfully entered the United States. Two days later ICE arrested a female foreign national who surpassed the duration of a lawful visit by nearly a year; and another individual who was with her in the vehicle at the time, and who also has an active immigration violation. These were lawful arrests and conducted completely within ICE's legal authority under federal law.

ICE routinely targets criminal aliens and people who overstay visas by a significant period of time. If ICE officers encounter others during the course of their lawful duties, who also have immigration issues and regardless of their criminal history, those additional encounters can lead to an arrest at the time of the encounter. The Executive Orders and DHS' memorandums on the matter are public record. They are the guides ICE is currently using with respect to immigration enforcement."
 
The detainees appeared in front of the Boston immigration court via video connection from the New Hampshire detention center where they were being held. Each wore a khaki prison uniform and sat silently in a chair as they observed the immigration judge speak with attorneys in the Boston courtroom. The protesters could be heard chanting outside, at one point prompting the judge to comment to Cameron that they were distracting. The judge ordered Balcazar Sanchez and Palacios Rodriguez released on a $2,500 bond each.
 
Other detainees didn't fare as well in the courtroom. Among the four others whose cases were heard Monday was 23-year-old Cesar Alexis Carrillo Sanchez, who was detained after a car accident. Sanchez allegedly failed a sobriety test, although the charges of operating a vehicle under the influence of alcohol were dropped. The immigration judge, however, took the sobriety test results into account, as he ordered Sanchez held without bail.
 
His wife, Lymarie Deida, a U.S. citizen, cried in the courtroom and hugged the couple's four-year-old daughter, as she heard the news.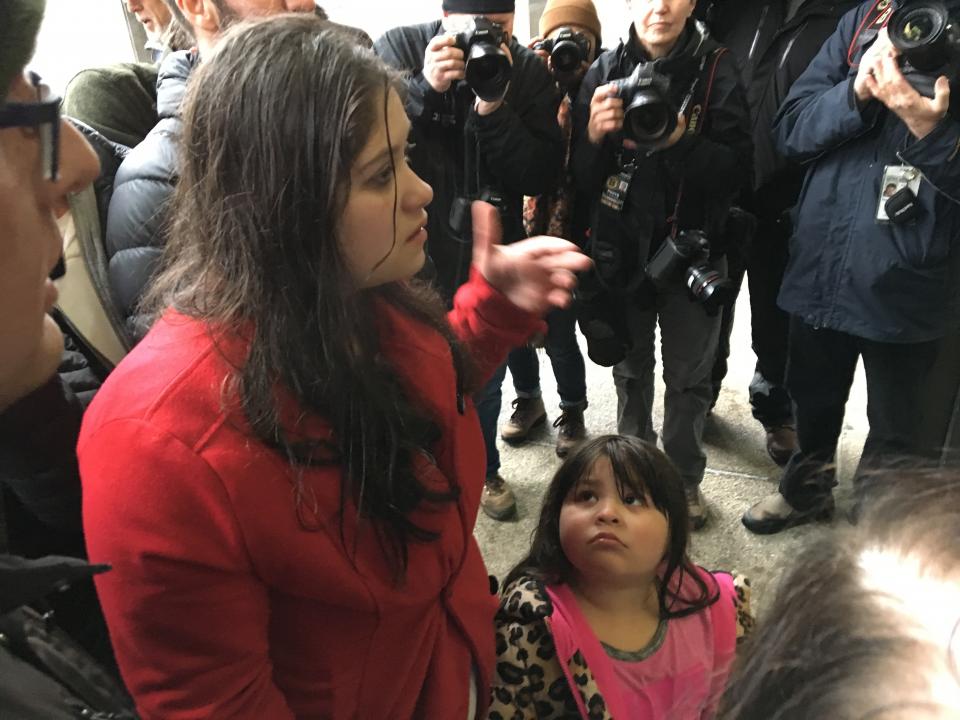 Photo Credit: Craig LeMoult/WGBH News