Cape Cod may have a reputation of being an affluent summer getaway, but the Kennedy's playground becomes a ghost town during the winter.
In downtown Hyannis, you're more likely to see the students of Sturgis Charter Public School rather than tourists keeping the Main Street eateries in business, because the school doesn't have a cafeteria.
The school isn't winning any accolades for state-of-art facilities — it operates out of an old furniture store on Main Street Hyannis. At Sturgis, it's old-fashioned education that makes it the No. 1 ranked public high school in Massachusetts.
Sturgis is an International Baccalaureate (IB) school. The program was originally developed by people working abroad who wanted a certain standard of education no matter where their children attended school. The curriculum is rigorous and recognized worldwide.
Paul Marble, Executive Director of Sturgis, says the school is "IB for all." Every kid chosen by lottery regardless of grades, past performance, or special education needs is placed into the same IB curriculum.
"Numbers don't matter," Marble said. "It's what are the relationships like in the classroom when the teacher believes that everyone can learn at a high level and a high level is individualized. So if a student with special needs can grow, that's a high level for them."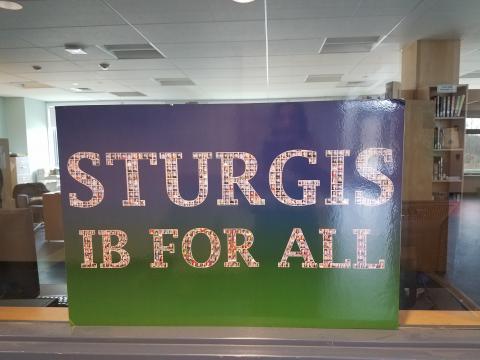 Photo Credit: Rebecca Romo/WGBH News
Helping with that relationship is small class sizes. Instead of fancy buildings, Sturgis puts its resources into people. They average around 15 students to every teacher and have a policy of splitting a classroom if it reaches 20.
Jessica Lynch is a Special Education Coordinator. She says because the teachers believe in the students, they believe in themselves.
"Teachers make themselves incredibly available to the students," Lynch said. "It creates kind of a team feeling — we're in this together, we're all on the child's team to help them accomplish something that's challenging."
That sense of community is echoed in the classroom. Luiz is in his first year at Sturgis. He's a native Portuguese speaker and is classed as an English Language Learner. He loves math, and normally feels quite shy in the classroom.
"One thing that I really learned that helped me is group work, team work," he said. "I can trust in them. They help me."
Luiz applied to Sturgis after a friend at church suggested the school.
"She said it was [one of] the top five schools in United states and that it was a little challenge, but we like challenges," he said.
Luiz receives extra help from Alyssa McClorey Timoh, who teaches English as a Second Language. She moved to the Cape after working in inner city Washington, D.C. She says it can surprise people that the Cape isn't just wealthy white people.
"I had an impression that it was much more white, upper class than when I arrived here," Timoh said. "The Brazilian population is very vibrant on the Cape. There's a large Jamaican population here in Hyannis, there's Haitian, Eastern European. I'm always finding new communities."
Critics have said that although the Cape may be diverse, the charter school doesn't reflect that. One of them is Meg Mayo-Brown, the superintendent of Barnstable School District, which educates 26.2 percent non-white students. Sturgis is in the school district, but only educates about 15 percent non-white students.
"They're in Hyannis, they're in Barnstable and yet the demographics in no way reflect that," Mayo-Brown said. "I think they have some responsibility to educate the diversity of Barnstable that we educate."
Additionally, while Barnstable High School educates 120 English Language Learners, Luiz is the only one at Sturgis. 
Mayo-Brown says it can be difficult for families who are new to the area or who don't speak English well to understand how charter schools work. She met with Marble to discuss the ways the two schools may be able to work together.
"We had talked about, 'could we get our guidance departments together? Are there ways in which we can get students and families that represent the English Language Learner population to understand the enrollment process of Sturgis Charter Public School?" she said. 
Marble understands these concerns and says he's tried hard to diversify the pool of applicants to Sturgis, including opening the school up for Portuguese-speaking families during after school hours.
WGBH's coverage of K-12 education is made possible with support from the Nellie Mae Education Foundation.