Every week, WGBH News' Arts Editor Jared Bowen sums up the exhibitions, theater, movies, and music you should check out in and around Boston.
The Rake's Progress, presented by the Boston Lyric Opera at the Cutler Majestic Theatre through March 19.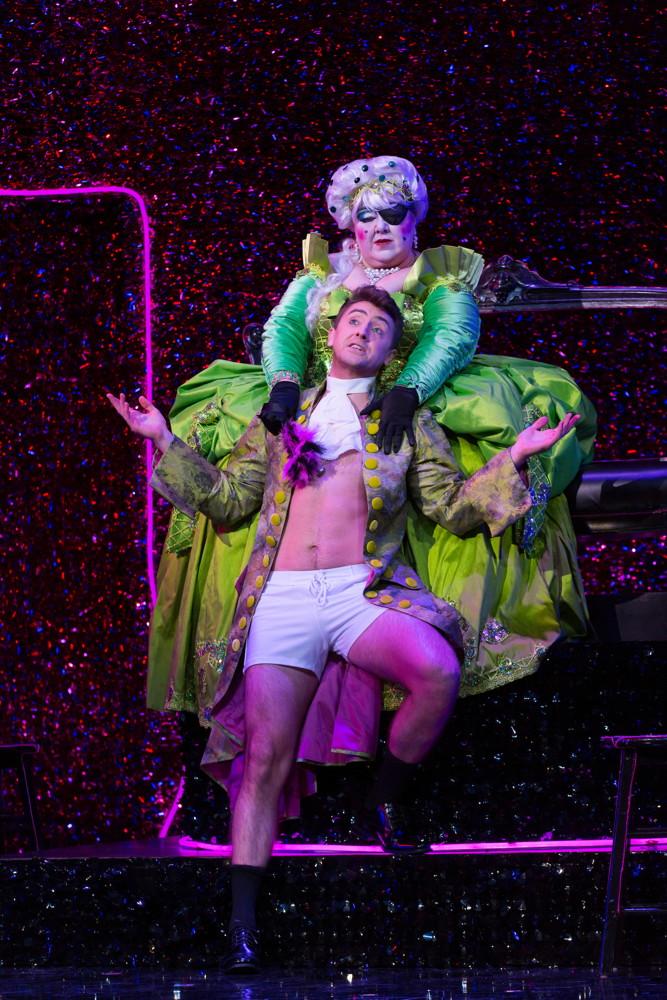 Photo Credit: T. Charles Erickson
Synopsis: With its beautiful arias contrasted with episodes of high drama and low comedy, The Rake's Progress reveals Stravinsky's very personal take on the neo-classical style during a turning point in the composer's career. Dissatisfied with the simple country life, Tom Rakewell abandons his sweetheart to strike a deal with the devil and travels to the big city to embark on a life of reckless pursuit of money, power, fame and pleasure. After a visit to a sordid but enticing brothel, a grotesque marriage, a disastrously failed start-up venture and a game of cards with horrifyingly high stakes, Tom realizes the true nature of the bargain he has struck. Can he turn back the clock or is his fate already sealed? In a surreal battle of ideals, desires and temptation, Stravinsky tips the rake into madness and finds in Tom's story a path to his own self recreation. This theatrically vivid staging by A.R.T. Resident Director Allegra Libonati tells the story of Tom Rakewell and dramatically unfolds as an interpretation of the fantastical inner landscape of Stravinsky in the 20th century.
Jared Says: "I believe this is where BLO soars ... smaller operas with outsized resonance."
Edward II, presented by Actors' Shakespeare Project at Charlestown Working Theater through March 19.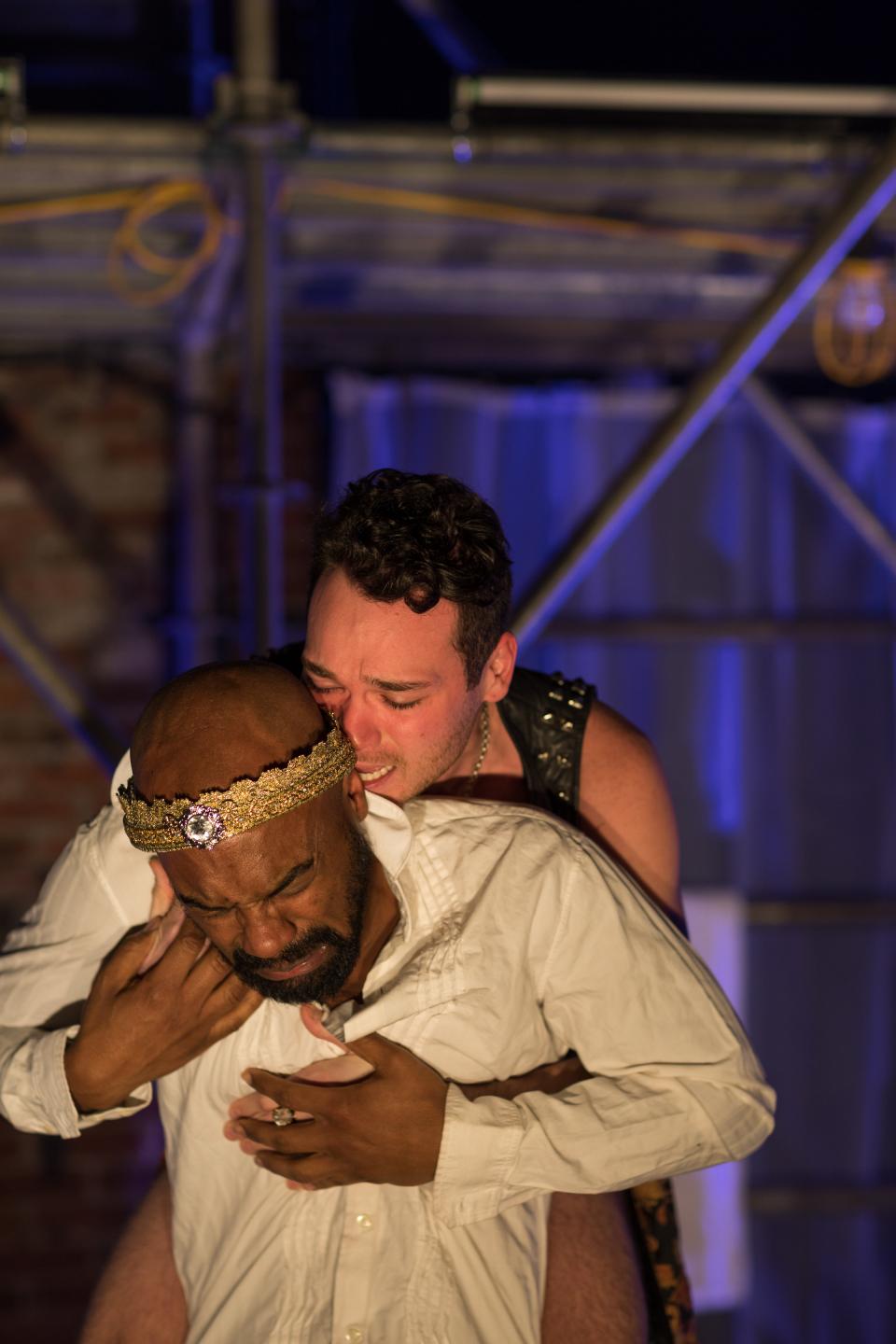 Photo Credit: Maggie Hall
Synopsis: In the wake of Edward I's death, his son has taken the throne as Edward II. His radical ideas around affairs of state, lack of military acumen, and loyalty to his ambitious lover Piers Gaveston pit him against powerful nobles and his calculating queen. These conflicts lead to Gaveston's exile and murder, new and shifting romantic loyalties on all sides, and revenge and retribution that ultimately seal Edward's fate. Director Christopher Marlowe uses the tumultuous history of 14th century England to share one man's struggle between self identity and the demands of his court and kingdom, presented in a taut new version that pares the work to eight characters to suit the intimate space of the Charlestown Working Theater and the intensity of his script.
Jared Says: "Strap yourself in - this is at once a delirious combination of the erotic, the visceral, and the brutal."
Topdog/Underdog, presented by Huntington Theatre Company through April 9.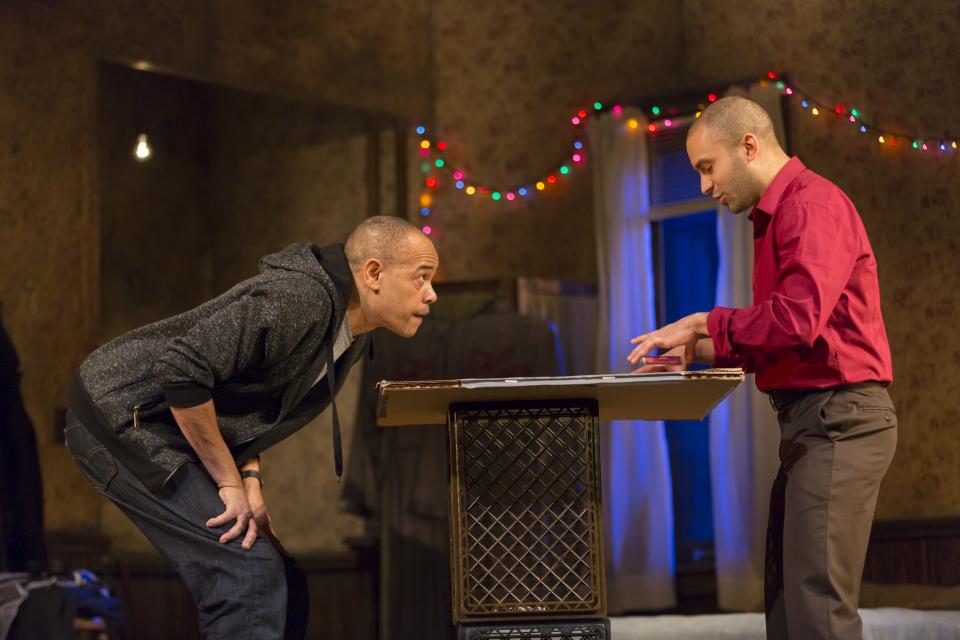 Photo Credit: T. Charles Erickson
Synopsis: Topdog/Underdog is a darkly comic, deeply theatrical fable about family wounds and healing bonds. Lincoln and Booth are brothers: best friends and bitter rivals. Lincoln, a former 3-card monte hustler, works as a Lincoln impersonator in a shooting gallery; Booth is an aspiring grifter. He tempts his brother to get back in the game, but the consequences could be deadly. The New York Times says Topdog/Underdog is a "thrilling comic drama. Dazzlingly written," and Entertainment Weekly says "Topdog/Underdog is demandingly smart and resonant!"
Jared Says: "Superbly directed, with chemistry that will make you want to watch the show on repeat."
Think we missed a big arts event this week? Tell Jared about it on Facebook or Twitter