Tuesday's snowstorm failed to fulfill worst-case forecasts, but it was still a nasty piece of work. Density more than compensated for what New England escaped in depth.
Because the storm veered off its projected inland course and tracked out to sea, the snowfall was heavy and wet – and later in the afternoon mixed. In other words: a shoveler's nightmare.
Those sensible folks who stayed indoors will have a rude awakening when they set out for work Wednesday morning. A late night freeze will start inland around 9 p.m. and move to the coast by 1 a.m. Expect slippery streets, dangerous sidewalks, and frozen keyholes.
By morning, strong winds should have abated. During the storm, gusts of up to 70 mph were recorded along the coast. Barnstable peaked at 74 mph on Cape Cod with Rockport clocking in at 70 on the North Shore.
Downed and disabled trees triggered power outages. As many as 52,000 households were without electricity – primarily in eastern Massachusetts. Outages were highest in northeastern Mass., but were significant in central and southeaster parts of the state. Newburyport and Salisbury were the hardest hit. 
The town of Southwick, southwest of Springfield in the Connecticut River Valley, registered the deepest accumulation with 14.8 inches. On the other end of the scale, the seaport Salem measured 5 inches.
The MBTA
Although the snow began in earnest after the morning commute ended, many stayed home. The MBTA put in a stable performance. With snow flurries starting later than expected, the MBTA subway and commuter rail operated with few delays.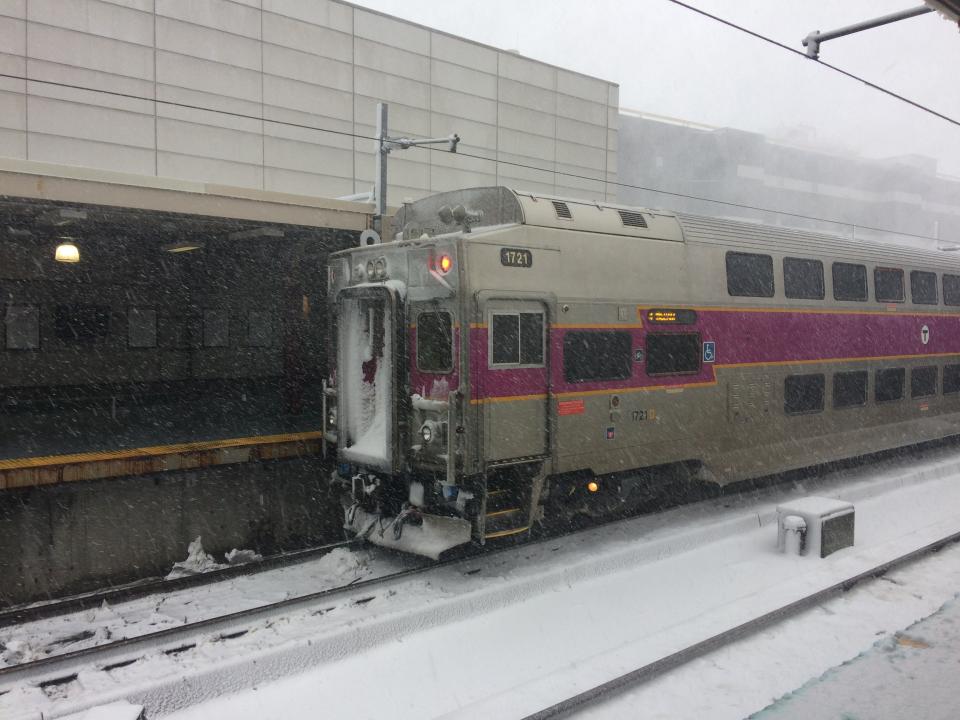 Photo Credit: Mike Deehan/WGBH News
Some bus lines were impacted, like the 73 route trackless trolley from Waverly Square to Harvard Square, which was delayed because of a problem with the line's overhead wires.
MBTA staff throughout the day concentrated on snow removal. Track clearing occupied T snow removal teams during the day and they prepared for overnight cleanup before the Wednesday morning commuter rush.
MBTA Chief Operating Officer Jeff Gonneville said T staff will be preparing the system overnight for when riders return in the morning.
"Tuesday evening into Wednesday morning's commute, we're going to have over 800 employees working," Gonneville said.
After a disastrous 2015 snow season that saw numerous cancellations and a full shutdown of the subway, the MBTA invested over $100 million to snow-proof the system.
The T expects to operate a full subway, bus and Commuter Rail schedule Wednesday.
Amtrak, the national passenger rail provider, cancelled service between Boston and New York. Travelers should check for reschedules.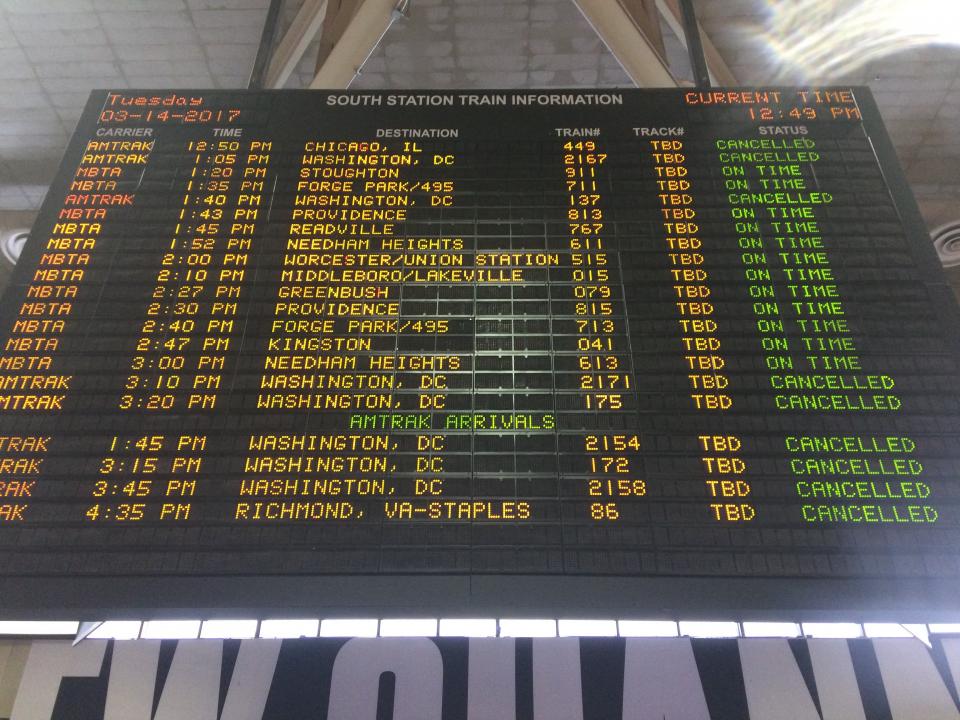 Photo Credit: Mike Deehan/WGBH News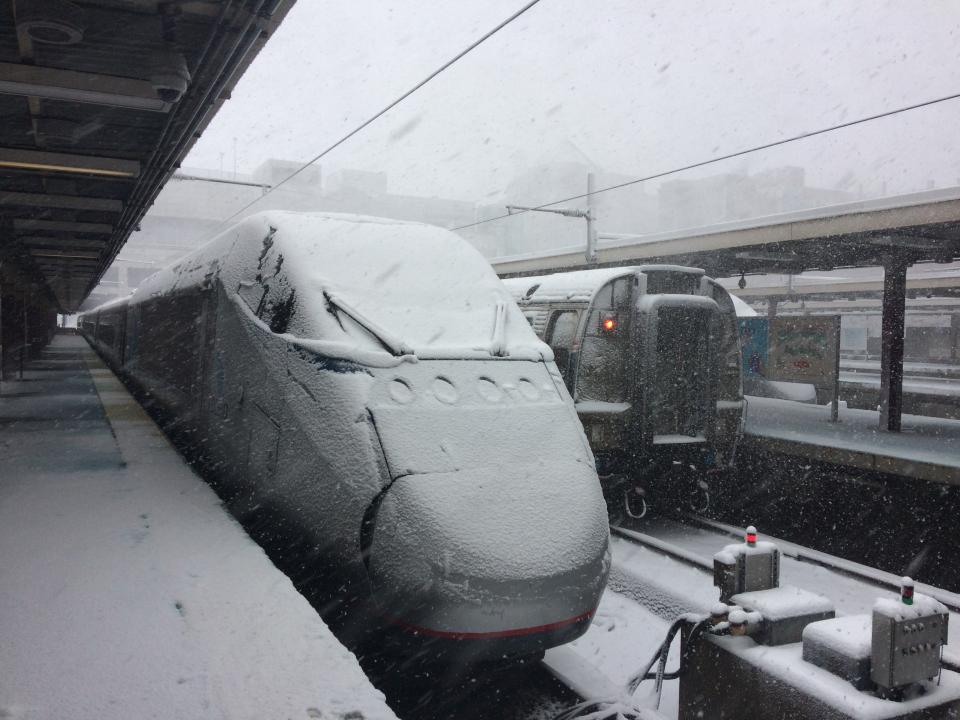 Photo Credit: Mike Deehan/WGBH News
Greater Boston
Before the snow started falling, the streets of Boston and its surrounding areas were coated with 4,000 tons of ice. As the snow started and intensified, the city deployed roughly 800 pieces of equipment.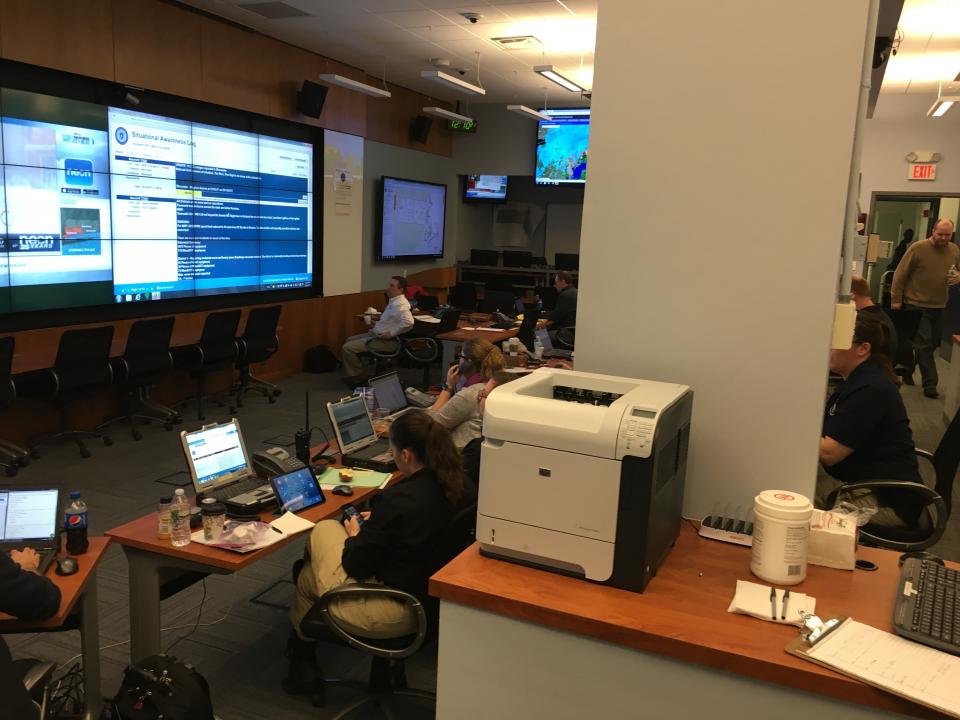 Photo Credit: Tina Martin/WGBH News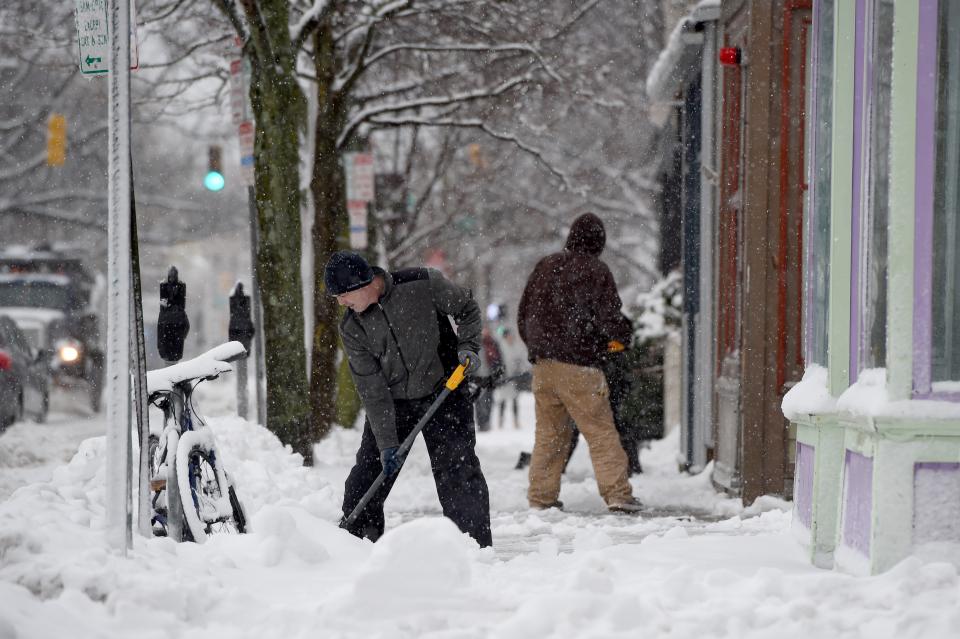 Photo Credit: Meredith Nierman/WGBH News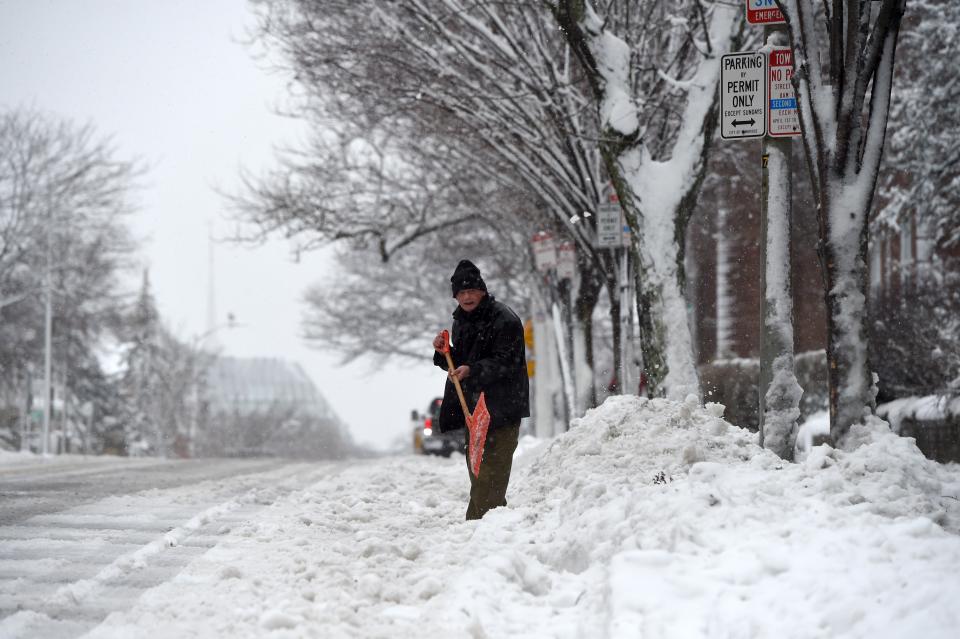 Photo Credit: Meredith Nierman/WGBH News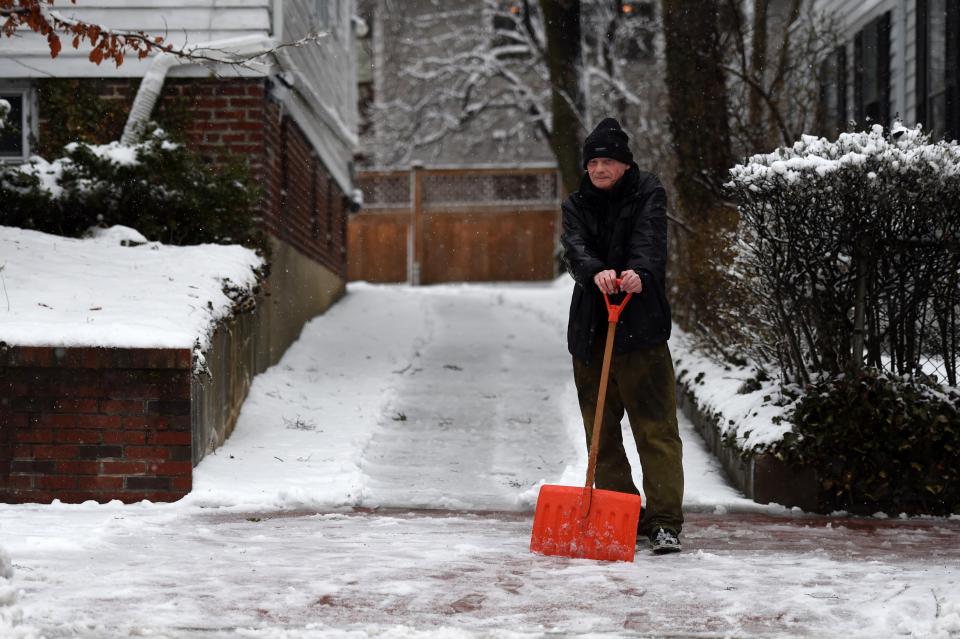 Photo Credit: Meredith Nierman/WGBH News
Wednesday, city operations will resume. However, because of concerns about freezing temperatures and icy conditions, Boston Public Schools will be closed for another day.
"I would rather err on the side of caution than put our kids in harms way," said Boston Mayor Walsh.
Shelters filled up as homeless individuals sought refuge. Well over 400 people found dry and warmth at the Pine Street Inn. And tonight, the shelter expected that number to double. They anticipate filling all 675 beds and roughly 100 other people will sleep on temporary cots and mats.
Barbara Trevisan, spokesperson for Pine Street Inn, says the advanced warning helped shelters stock up on food and prepare additional rooms. 
However, she says some people still refuse to come indoors. For them, Pine Street Inn sends out vans with counselors and trained staff.
"They go out equipped with food, coffee, hot chocolate, sandwiches, very warm blankets, warm clothing," says Trevisan.
She says they are coordinating with the Boston Public Health Commission and other shelters to keep track of everyone who remains on the streets.
The Environs
In Marblehead, just before 11 a.m. as the storm began to intensify, two turkeys huddled in a recessed Starbucks storefront. The birds weren't confrontational, as turkeys sometimes are. Instead, they calmly stood as passers-by bound for refreshment snapped pictures and uttered pleasantries.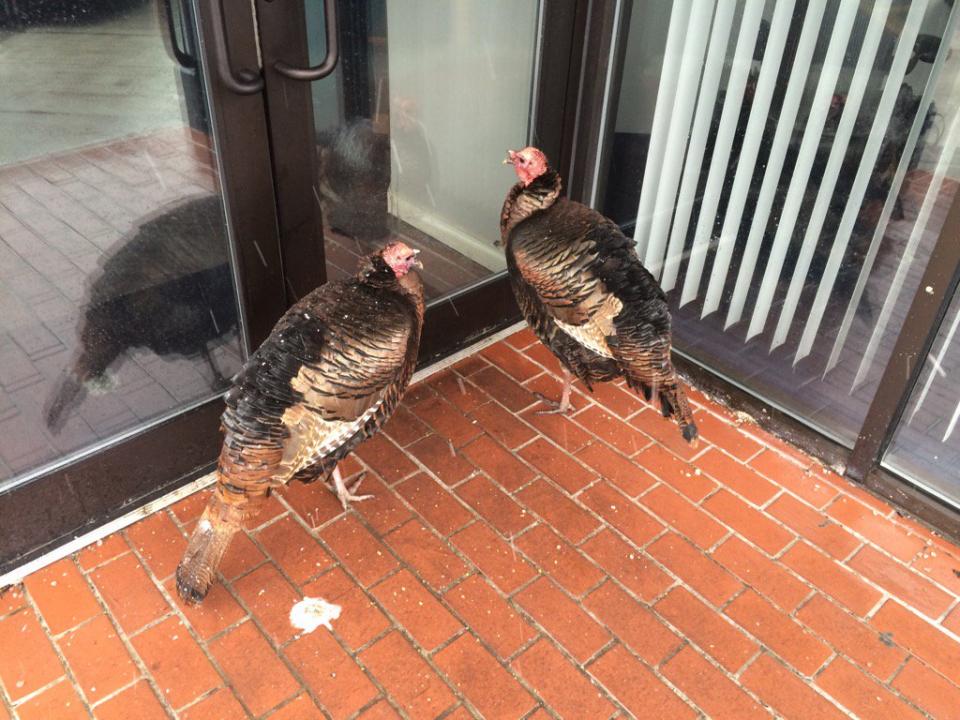 Photo Credit: Adam Reilly/WGBH News
Inside the shop, a self-important older guy in a hoodie berated the staff for daring to close early. He also complained about the local schools closing, and tried bolsert his argument by proudly announcing that he'd lived through the Blizzard of '78. Everyone ignored him.
WGBH reporter Adam Reilly, after learning via Twitter and email, that the storm was being panned as a "bust," drove down to Revere Beach, parked his car, and stood next to the Oak Island Bath House for approximately one minute, capturing video of the high tide.
His report: "It was excruciating. The wind, blowing from the northeast at what felt like extremely high speeds, was excruciating, pummeling me with heavy, sharp nuggets of precipitation that split the difference between snowflakes and sleet. I moaned in agony and nearly fell down; after a minute, tops, I fled to my car. No storm that can take that physical toll that quickly is a bust." 
On the South Shore, things were – well – slushy.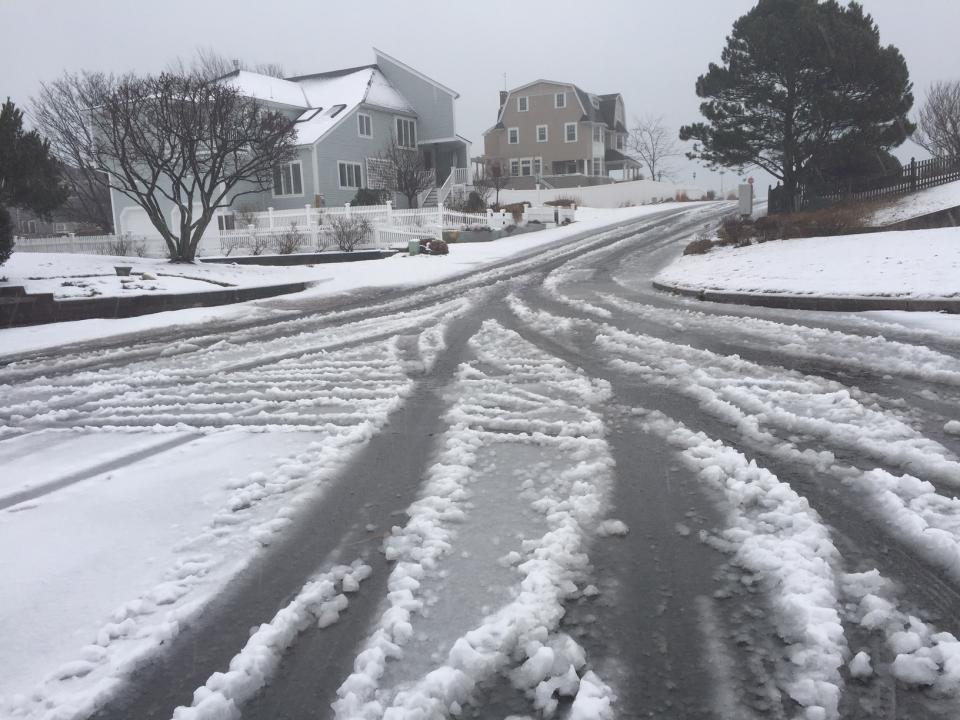 Photo Credit: Cristina Quinn/WGBH News
At high tide along the Scituate seawall, overwash led to minor flooding in the usual neighborhoods, Humarock and Surfside Road. Fire trucks and police SUVs slowly made their way through the neighborhoods, surveying the areas for damage.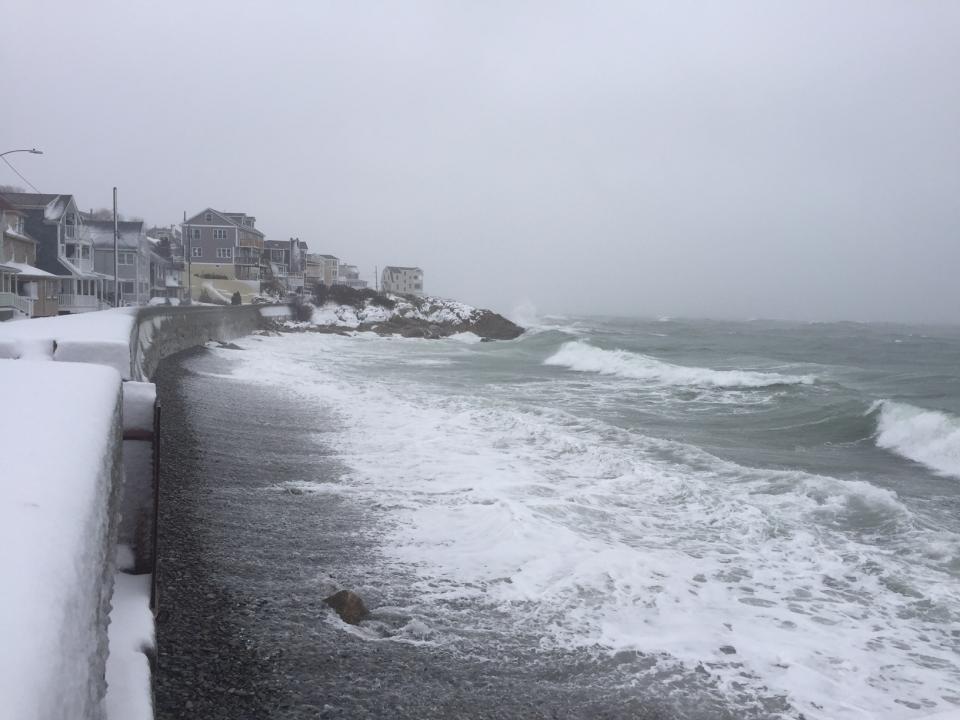 Photo Credit: Cristina Quinn/WGBH News
There was also minor flooding in parts of Hull and slush clung to cars and the backs of homes but fortunately, not to power lines.
In Cohasset harbor, weathered lobster boats bobbed up and down enthusiastically but held steady. This wasn't their first rodeo. And it won't be their last.