FBI director James Comey is caught in the middle of several political storms related to the bureau's investigation into Russia's election meddling and his rebuke of President Trump's dubious claim that former President Obama tapped his phones. On March 20th, Comey is scheduled to testify before Congress, but Democrats on the House and Senate Intelligence Committees accuse him of withholding information about related investigations into Donald Trump's alleged ties to Russia.
Still, speaking at a cyber conference in early March at Boston College, Comey made clear that he has no intention of stepping down. FBI directors are appointed to 10-year terms. And if there's any speculation whether Comey will complete his, he was unequivocal. "You're stuck with me for about another six and a half years," he said.
Comey was speaking to an audience of business leaders, law enforcement officials, academics and students at a cyber-security conference.  He laid out the bureau's strategy for combat cyber threats, which includes going after state actors.
"Think, China, Russia, Iran, North Korea," Comey told this audience. 
But he said successfully countering cyber threats depends on the American intelligence community being on the same page. "The first thing we need to do is to make sure we're clear inside the government on who has what responsibilities," Comey said. "And at the end of President Obama's administration he offered us the clarity that so many of us wanted that makes good sense."
With that statement, Comey seemed to be implying that the signals coming from the current White House are far less clear. 
Comey warned that the threat of cyber-crime was growing and asked participants to assist the FBI in decrypting massive amounts of information that remain inaccessible.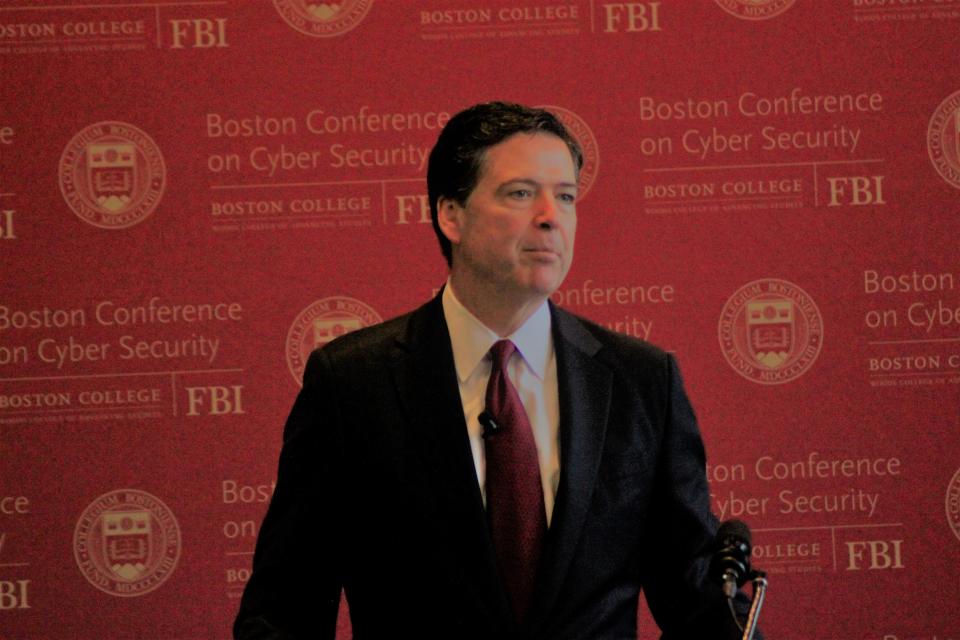 Photo Credit: Phillip Martin WGBH News
"There's always been a corner of the room where the FBI operates where sophisticated actors were who had access to encryption," he added. 
The ability to mask cyber crime has become more sophisticated since the Edward Snowden incident, said Comey, adding that cyber criminals, including pedophiles and increasingly terrorists, are protected by ubiquitous strong encryption software. Many experts believe that the FBI's claims are overblown, but Comey said that in just three months the agency has received 2800 devices resulting from a court order and "twelve-hundred of those devices we could not open with any technique. Any technique."  
But the main cyber question on the minds of many at the sold out conference is what will the FBI uncover about Russian interference in the US election? On that James Comey had no comment.
But he had quite a bit to say about cyber crime. Comey laid out a strategy to counter the threat, including the recruitment of more tech savvy students and experienced professionals:
 â€œCome be part of this mission," he implored the audience.     
Comey said sophisticated cyber-attacks are coming not just from state actors like Russia and China but from terror groups and criminals who are using ransom-ware to blackmail institutions or are just bent on destruction for destruction's sake.
 â€œThink about the harm someone could do by an intrusion at a blood bank," he said.
Conference participant Katie Stebbins, the assistant secretary for Technology, Innovation and Entrepreneurship in Massachusetts, has thought about this and says she is very worried about the implications.
 â€œWe should all be concerned," she said. "Security is everyone's concerns. Those are life and death situations." 
That's the reason, she said, why she was attending the FBI's cyber conference. Abuses of software and the internet are having a far-ranging, negative impact on entities as diverse as the Democratic Party and Sony Pictures and individuals who open the wrong link in an email.  Millions are being hacked.