This story idea came to the Curiosity Desk from listener Ellen Cosgrove in Foxboro, MA.
I was wondering about the weigh stations I see on highways. I often see them, and they're always closed. Why do they exist? I was wondering if you could shed some light on it.
On a recent morning, I visited the weigh station along Interstate 95 northbound in Rowley, Massachusetts, where I met up with Lieutenant Tom Fitzgerald, head of the Massachusetts State Police Commercial Vehicle Enforcement Unit.
Shortly after my arrival, Fitzerald opened the weigh station with the simple flip of a switch that changed a sign on the highway to read "open." And whenever that sign says "open," every commercial truck on the highway is required to pull in. Within seconds, that's exactly what started happening. 
Just as the name suggests, state troopers in the weigh station really do weigh commercial trucks. Federal law restricts most big rigs to 80,000 pounds. That number is not random, as Fitzgerald explained.
"All the bridges are designed, basically, throughout the country to have a maximum acceptable weight of 800 pounds of tire pressure per square inch, so the weight laws are federal," he said.
But it's up to the states to enforce them. Some states have big, fixed scales and weigh every truck. In Massachusetts, the weigh stations looks more like big parking lots. Troopers like Steve Browning watch closely as the trucks parade slowly by, looking for clues that one may be carrying too much of a load.

Photo Credit: Edgar B. Herwick III/WGBH News
"Once you've done it for a long time ... you can tell who's loaded," Browning said. "Sometimes you can look at the tires, how the truck rides. There's a lot of indicators on heavy weight."
As Browning was explaining the process to me, a large flatbed packed high with lumber caught his eye, and he flagged the truck to be weighed.  
I climbed into the cab of the truck in question as driver David Tracey, from Mercer, Maine, awaited his fate. 
"Well. it is part of the business," Tracey said. "'Course it is a pain, 'cause it cuts into an already tight schedule to begin with. But I understand it's about safety. You do see some sketchy stuff on the roads."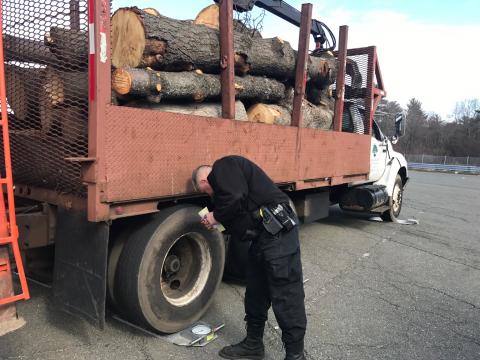 Photo Credit: Edgar B. Herwick III/WGBH News
The weigh-up is a fairly low-tech affair. The troopers had Tracy roll forward onto small mobile scales and recorded the weight. Once they weighed each set of tires on the truck, they simply added it all up. 
And was Tracey worried that he was overweight?
"I'm usually right around where I need to be. I mean, there's a chance; I'm pretty close," he said.
The fines get more expensive the more overweight a truck is. At 1,000 pounds over, the fine is just $40. But 10,000 over will cost you $800, and 20,000 over will cost $1,600.
Crucially, police here do more than just weigh trucks. Think of the troopers as a roving inspection team. They're cross-trained on more than a hundred safety laws commercial vehicles must comply with. A truck could get checked for violating any of them, from suspension systems in disrepair to an out-of-date registration to what happened to one truck driver whose rig was also flagged to be weighed: 
"Just like that, we start with a weight enforcement and now we find marijuana in the truck," Browning explained as he walked toward me holding a Newport cigarette pack containing a small amount of weed. "Even though it's legal in Mass., it's not legal in the truck. So, his truck will get towed, he'll be out of service. That's kind of how it escalates."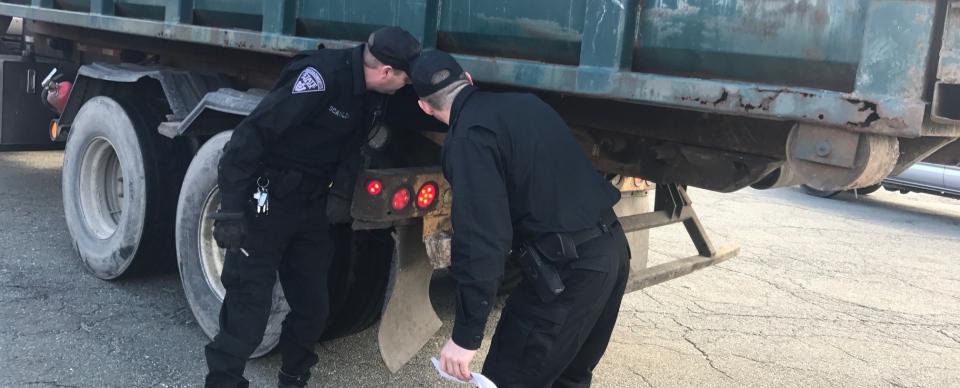 Photo Credit: Edgar B. Herwick III/WGBH News
Fitzgerald's unit is 29 strong, and they're out weighing trucks five days a week. So why is it that weigh stations never seem to be open?
For starters, there's a dozen of them in the state. On any given day, chances are the team's not working one near you. Plus, they avoid opening the stations when most of us are actually on the roads.
"One of the issues with the weigh station is the volume of traffic," Fitzgerald explained. "So right now, they're almost backed out onto the highway. We can't have an accident, so now we have to pull everything through. This is why we're not out during rush hour."
Fitzgerald's unit has one goal, he says, plain and simple: to keep the roads — and the people on them — safe.
"It's not about numbers; it's about being effective," he said. "We have the lowest commercial vehicle crash fatality rate in the United States. And we've had it for the last 10 years, because we focus on prolific violators — stuff that's seriously, seriously wrong. We're not looking for rigid technical compliance with all of the laws."
Fitzgerald calls his approach "strict but fair" and says that he's learned that, in this job, a little dash of empathy can go a long way.
"The thing about the truck drivers is they're great people," he explained "They're just workin' folk, and they're just like us. And if they're treated fairly and they're treated decently, they're real easy to get along with."
For trucker David Tracey, that sentiment is mutual. 
"These guys are pretty friendly for the most part," he said about the weigh station troopers. "You treat them with a good attitude, and they'll generally treat you the same way."
And how did Tracey's weigh-up turn out?
"He was ... just over 78,000 pounds, so he's under the 80,000 — so he's good to go," Browning said.  
"It's always good to hear," said a smiling Tracey as he pulled away. 
Our thanks to Ellen Cosgrove in Foxboro for the question that led to this story. If there is something you have been itching to know more about, email The Curiosity Desk.