A recently leaked White House memo calls for Immigration and Customs Enforcement to raise by 80,000 the number of undocumented immigrants incarcerated daily. To accommodate those numbers, President Trump — in the same executive order authorizing the building of a wall — has called for the construction of new private prisons and expanding existing local jails. That could mean expanding Massachusetts' immigration detention centers, particularly the Suffolk County House of Correction known as South Bay.  
The Suffolk County House of Correction, which is tucked away in a corner of Roxbury visible off the Southeast Expressway, has for a long time generated great anxiety among immigrants. It stands 11 stories tall and cannot easily be overlooked, especially these days from the perspective of undocumented immigrants, who in whispers and conversations on night-time janitorial jobs and in fast food kitchens are talking about the jail becoming even a greater symbol of fear in the age of Donald Trump.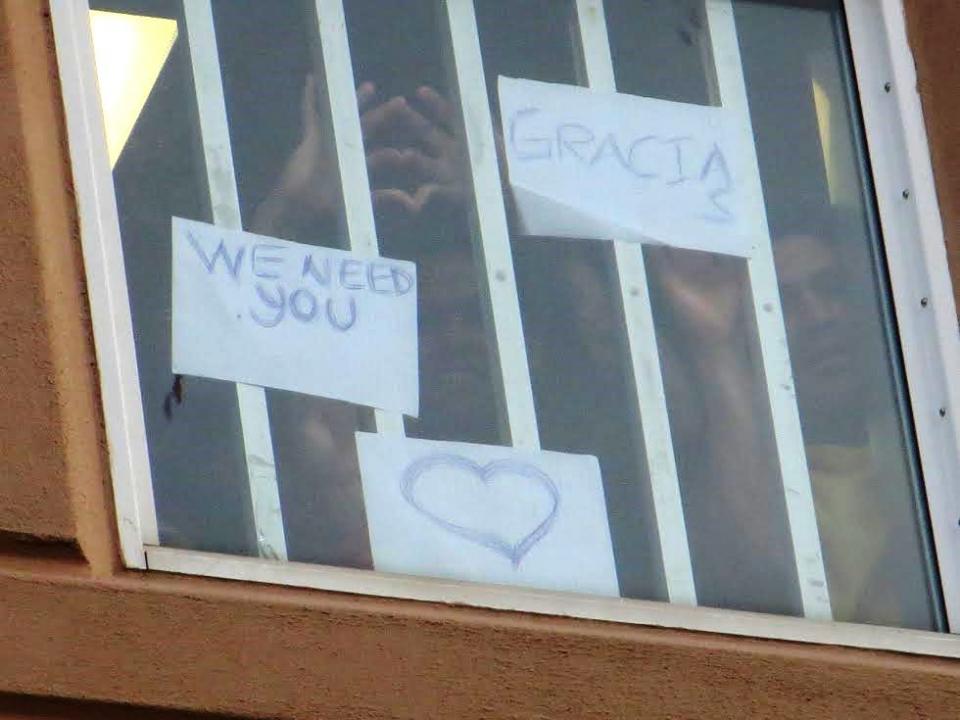 Photo Credit: Unitarian Universalist
"Because it's a terrifying place. They will break you and dehumanize you. it's a place that will tear you apart," said Natalicia Tracy, an immigrant from Brazil who is now a US citizen. She is executive director of the Brazilian Workers Center in Boston, representing people who live in the shadows without proper papers. A Boston Globe series found undocumented immigrants were held at detention centers in secret and without access to a lawyer. Tracy said that with Trump in office the undocumented — including people criminal records — fear more than ever before being whisked away to the Suffolk County House of Correction without anyone knowing they're there.
"It's the worst thing that can happen to an immigrant who's undocumented is to end up there," Tracy said. 
When asked about South Bay, former Suffolk County Sheriff Andrea Cabral thought about the question posed to her.  "South Bay as a symbol of fear because people who are being deported are held there?" she said. "I think that that's a legitimate fear."
Cabral calls the jail by its nickname, South Bay. That sounds like a tourist destination, but she acknowledges that it is anything but. South Bay became a federal immigration detention center — specifically building 8 — under her watch because of budget concerns. Building 8 had been vacant because it had been built to house female inmates but Cabral said the final product wasn't "built appropriately for that." 
Which is why dozens of demonstrators have protested outside South Bay detention center over the years.   
"We go there twice a year because we want to let people inside who are put there because they don't have papers know that there is hope."  
But said Natalicia Tracy of the Brazilian Workers Center, days after the election of Donald Trump something different happened outside South Bay that she had never experienced before. Tracy said for the first time in her experience the guards exited the jailhouse to confront the demonstrators.
"One of the people in charge told us that we had to move from that corner to the other corner and we moved and soon after another one came over and told us that if we were you make any noise or singing or have signs that would instigate singing inside the prison then they would have to take action," Tracy said.
Former sheriff Andrea Cabral said it was unusual for guards to step outside of the jailhouse to address demonstrators.   Tracy interpreted the confrontation as symbolic of a more aggressive stance by immigration officials — emboldened, she said, by Trump's victory. 
Brazil native Lucimara Rodriquez lives in Alston-Brighton with her husband and two children, Maria and Brian. She has spent 14 years avoiding parking tickets, speeding tickets and trying to stay under the radar. Now she said it may not matter. Rodriquez said this is the first time she's actually afraid of ending up in a place like South Bay. 
"Because if Donald Trump does everything he said in the campaign that will mean that the immigration police would know where we are and where we live because when we were filling out our children's documents for school we handed in our own documents, so ICE know where we live and they could come knocking at our door at any time," Rodriquez said.
The Immigration Detention Center at the Bristol County House of Correction is in Dartmouth, an hour south from Boston. Sheriff Thomas M. Hodgson, who has offered to send jailed inmates to the US-Mexico border to help build Trump's wall, said he is willing and ready to accept more undocumented immigrants at the Bristol facility in line with Trump's articulated goals. Hodgson supports a bill in Congress filed by former Sen. Jeff Sessions--now U.S. Attorney General-- that would give local law enforcement the power to enforce immigration laws.
"If there's an opportunity to broaden out what any of us do in enforcement to get the criminal illegal aliens out, then we need to do that." Hodgson said.  
Some of the people behind bars at Bristol have been there for years waiting for a hearing that could result in deportation.  Kathryn Correia oversees a bloc of 16 female detainees, almost all of whom are separated from their children.
"I had a couple today discuss how she has two young boys at home, and she think she's leaving soon, but she's not sure," Correia said.
Stories like this abound at detention centers in Bristol, Plymouth and Suffolk. And advocates for undocumented immigrants fear they will become commonplace if jails that began to fill up under President Obama grow even more crowded under President Trump.   
Immigrant rights advocates say that is why they will continue to demonstrate outside of these detention centers
===========================================================================================
This report was produced with editorial assistance from Lidia Jean Kott and Paris Alston