This time of year, whether you are looking for something elegant or kitchy, meaningful or clever, sincere or ironic, there is an option out there for you. And depending on how you feel about the glut of mass-produced, cardboard ways to let partners, friends, and family know just how much you love them each Feb. 14, you might want to thank — or blame — the city of Worcester.
"The Valentine was not invented in Worcester, Massachusetts no matter what you hear from anyone," said Worcester Historical Museum Executive Director Bill Wallace. "But, in the last quarter of the 19th century, Worcester was one of the centers of the American Valentine industry."
That's thanks, in large part, to Esther Howland.
"She is credited as being, sort of, the mother of the sentimental Valentine in New England, or maybe the entire United States for that matter," said Wallace.
Howland was the daughter of a successful stationer. In the 1840s, she was 19 and a proud recent graduate of Mount Holyoke College, when she received an elaborate, European-made multi-layered Valentine, with intricate lace over colored paper, decorated with decals.
"And she says, 'I can do this too'," said Wallace. "'I can create a multi-layered Valentine.' She gets a group of her friends together and they start a business."
Given her father's work, she had access to materials and the market, and she turned a guest bedroom on the third floor of her family's home into a small factory.
"Everyone in a production line," explained Wallace. "Someone's in charge of the lace, someone's in charge of the decals, someone else is in charge of the verse and they make Valentines all day long, and as a result no two ever look exactly alike."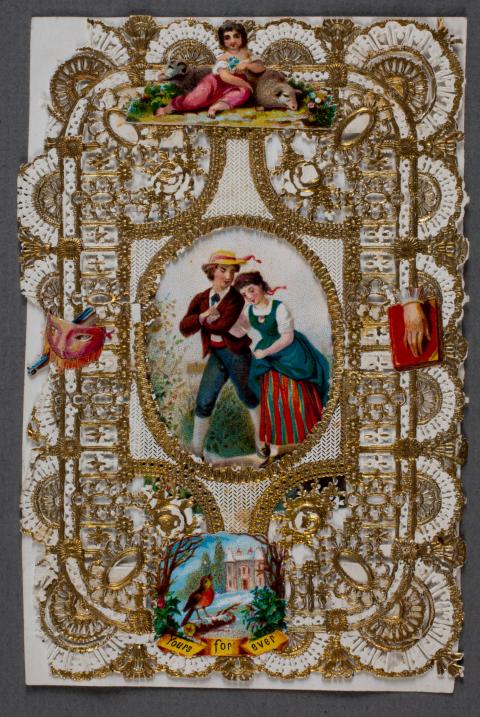 Photo Credit: American Antiquarian Society
Wallace showed me some of the Museums' collection of Howland Valentines — most of them lacy and colorful, with images of flowers and cherubs, and simple messages like "I Cling to Thee."
Notably, there are no hearts on Howland's Valentines, nor is the color red featured.
"No. Definitely not an emphasis on red," said Wallace. "They are very 19th century; lavenders and greens and bright blues."
No business records survive, but Howland was clearly a success. She herself claimed to have grossed as much as $100,000 a year at her peak. And while she is credited as the first American to commercialize the selling of Valentines, she was not the only one in the area making them. There was also Grafton's Jotham Taft.
"There's some thought that he might have been making Valentine's in Grafton before Esther Howland," said Wallace. "Again, there are no good advertisements that remain as documentation and there are no business records."
What we do know is that in 1879, Howland and Taft merged their operations under the name NEVCO, or New England Valentine Company.
"They make Valentines for two years at Harrington Corner in downtown Worcester and then they sell out to George C. Whitney — a fellow who had been making Valentines in Worcester as early as the 1860s."
The Whitney Company would continue to make Valentines in Worcester until 1942.
"George Whitney, who was the grandson of the original George Whitney, closes the factory," explained Wallace. "They have an auction, they sell off the various components to other card makers, they sell off some of the designs and they simply go out of business."
So why did Worcester become such a hotbed for, of all things, Valentine's? Wallace says that 19th century Worcester was about far more than looms and textiles. It was a model of a modern American city.
"Worcester makes something for every letter in the alphabet at some point," he said. "There is a success on every corner because it is a city of diversity, of innovation and enterprise and that continues to be the story today."
That the Valentine was such an important part of that story is only fitting for a city that likes to call itself the "Heart of the Commonwealth."
You can send your loved one digital versions of original Howland and Whitney Valentines from the Worcester Historical Museum's collection here.