With so many different news sites and media outlets talking about coastal climate risk, it's difficult to know where to find information about climate threats and land use changes where you live and work. All too often we hear references of a "new FEMA flood map" or that there are specific populations in the city at risk, but we don't know where to look for these resources. We wonder: Will my house be underwater if a storm hits? What will Boston look like in 2100? What did it look like 1900? When do sea level rise and storm surge really start to matter? Where are the most vulnerable areas? Listed below are five current spatial-based resources that give citizens valuable perspective on how Boston has changed over time and what our city might look like as seas become ever higher.
1.) USGS Historical Topographic Map Explorer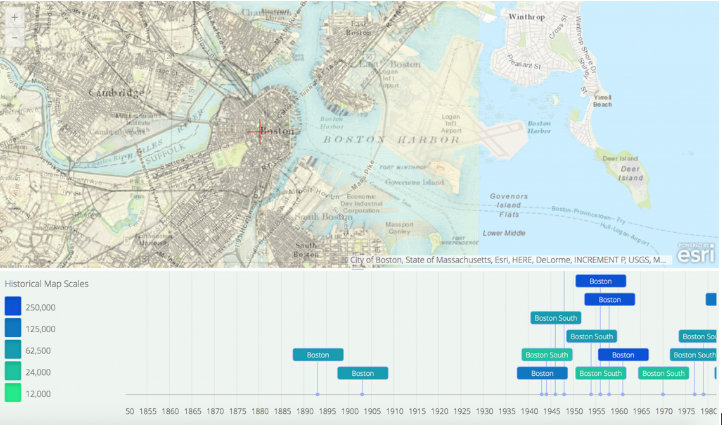 U.S. Geological Survey and Esri teamed up to create an interactive map that allows a user to overlay historical maps of Boston from 1893–1989 onto a current map of the city. Users can choose from 16 different maps spanning the century, and can overlay them, reorder them, and adjust map transparency as needed to answer their own questions about land use changes in the city. Take a look at how isolated Governors Island slowly evolved into Logan International Airport.
2.) Potential Flooding in Boston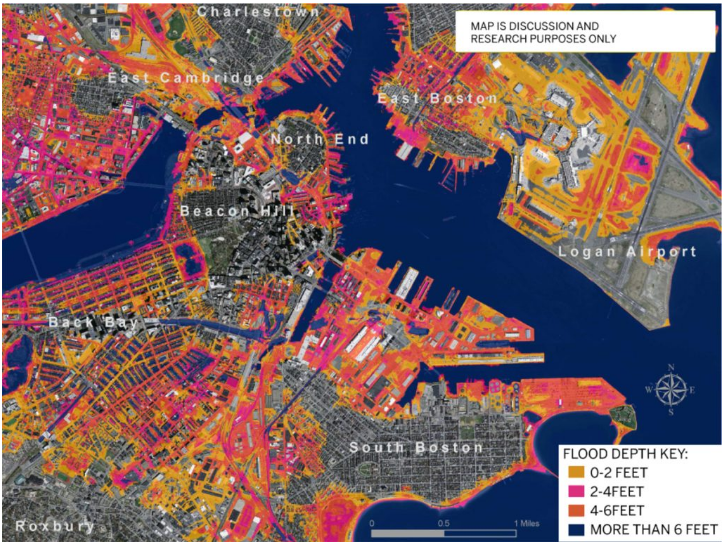 Boston Globe worked with Dr. Ellen M. Douglas of UMass Boston and the Boston Harbor Association to create a straightforward interactive tool that exposes harbor flood risk in different sea level rise scenarios. Users can look at what flooding might look like if sea level is 2.5 feet higher than present day, 5 feet higher, or if there is 5 feet of storm surge with already heightened sea level. Be warned: there are only a handful of regions where one can seek refuge and keep dry feet. Every Bostonian should quickly study this map.
3.) Surging Seas Risk Zone Map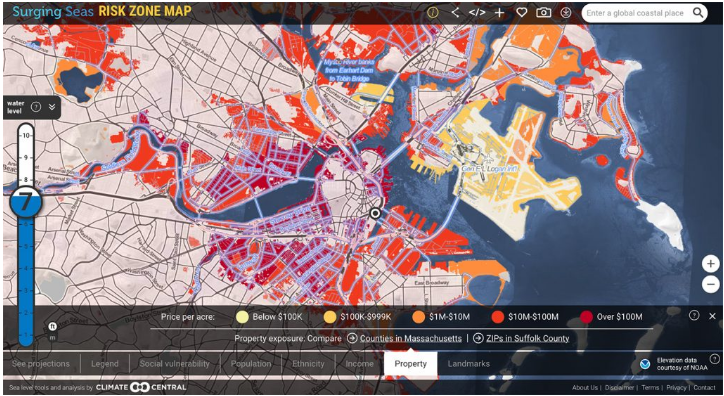 Created by Climate Central's Program on Sea Level Rise, this interactive graphic may be the most comprehensive flood risk tool to date. Not only can users adjust future sea level rise from 1–10 feet, they can do so while comparing that flood risk to social vulnerability, population, ethnicity, income, property value, and landmarks such as museums, hospitals and power plants. With zoom functions and links to even more data and interactive graphics, this site is an incredible resource for residents and policymakers alike. Give yourself time to explore.
4.) Boston, Massachusetts: Elevation And Population Density, 2010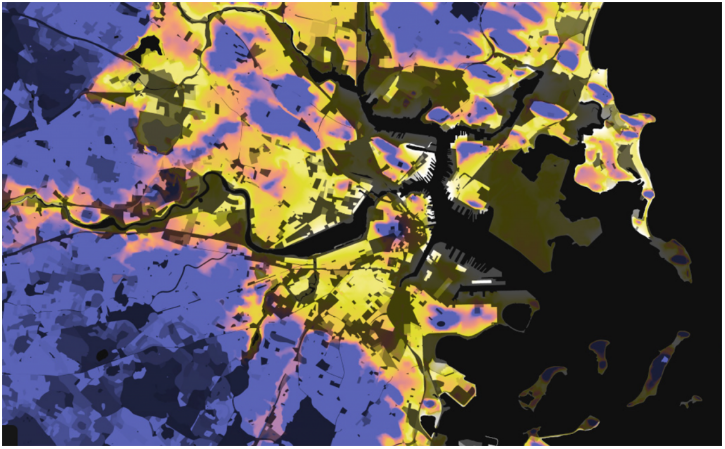 Data Pointed is a website filled with data visualizations by Stephen Von Worley. In this piece, Worley visualizes Boston topography and population density together in a simple static graphic. The brighter the color, the more residents per square mile. The warmer the color (e.g. yellow and white), the closer that area is to sea level. One can see that parts of Charlestown and East Boston almost glow. Though non-interactive, this visual strategy offers a quick perspective on population risk for flooding in low-lying areas.
5.) Boston Living with Water competition finalists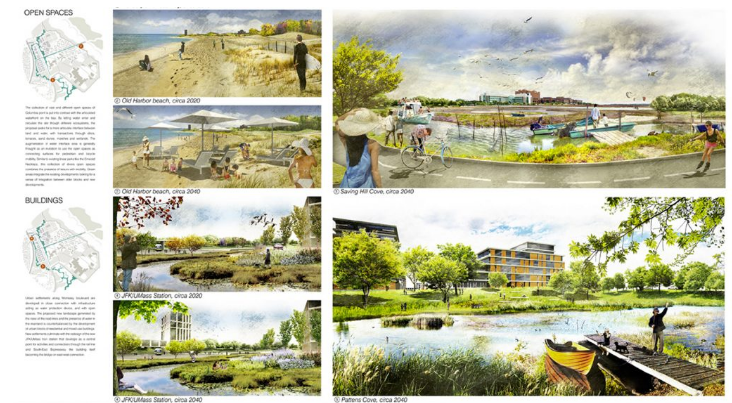 Last summer, the City of Boston, The Boston Harbor Association, the Boston Redevelopment Authority, and the Boston Society of Architects revealed the winners of their urban design competition that "sought design solutions envisioning a beautiful, vibrant, and resilient Boston that is prepared for end-of-the-century climate conditions and rising sea levels." The three final designs, which each focused on a different type of site (a building, a neighborhood, and a piece of city infrastructure), show viewers the creative breadth that is already informing how Boston will prepare for higher sea level in 2100. With suspension footbridges and integrated neighborhood tidal basins, proactive waterfront infrastructure and sustainable habitat restoration turn Boston's future coasts from problem areas into urban opportunities.