Navigating ships in the waters around Cape Cod has been a treacherous, even deadly proposition for as long as people have been navigating ships in the waters around Cape Cod.
"Historically, along the outer shores of Cape Cod, there were many shipwrecks," said Samantha Gray, a park ranger for the U.S. Army Corps of Engineers. "You talk to some historians, and there [are] estimates [of] as many as 3,000 shipwrecks from early colonial times into the 1900s."
There was also a solution that could save lives, time and money. At its narrowest point, just a few miles separated Cape Cod Bay to the north and Buzzards Bay to the south. And mother nature had already started the job of connecting these two vast, navigable bays. The Scusset River flowed north into Cape Cod Bay, and the Manomet River flowed south into Buzzard's Bay. Between them was just a mile or so of dry land. But connecting the two to provide a passage for ships would prove a mighty task.
Myles Standish first proposed a canal be built in 1627 to facilitate trade with New Amsterdam. George Washington wanted one constructed during the early years of the Revolutionary War for safe passage of American ships.
"He sent down an engineer by the name of Thomas Machin, and that, today, survives as the first known survey for a Cape Cod canal through the valley that the canal now flows through," Gray explained.
For the next century many more proposals for a canal were made, some were granted charters and a few even started construction. But in the end, it took a couple of New Yorkers to make it a reality: Financier August Belmont, Jr. and civil engineer William Barclay Parsons.
"The two of them worked together before the canal project to build the first subway system in New York City," Gray said.
Their Cape Cod & New York Canal Co. officially broke ground in 1909.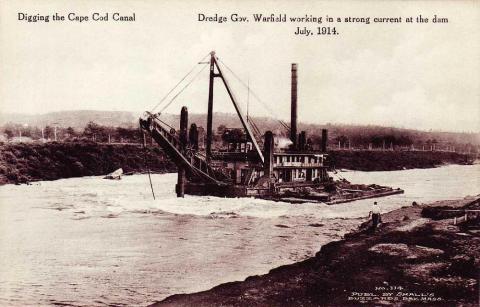 "They ran into a few problems," Gray said. "Well, a lot of problems. And they were big problems. Big heavy problems. They were boulders."
Glacial erratics, to be precise; huge rocks deposited by the glaciers that formed Cape Cod during the Ice Age.
"What they had to do, really, to get rid of them is to dynamite them," Gray said. "Whether they're on land or on water—sending divers down—and that seriously slows down your progress."
Slowed, but didn't stop. And after five years of expensive, backbreaking work, the Cape Cod Canal officially opened for business with a ceremonial parade of boats—and great fanfare—on July 29, 1914.
"Unfortunately, the waterway was not as successful as the investors had hoped," Gray explained.
The original canal was hard to navigate—narrow and shallow with a fast, unpredictable current. For many commercial vessels, the 135 miles saved by cutting through was simply not worth the headache. Plus, it cost money.  
"Belmont did not build the canal out of the goodness of his heart," Gray said. "It was a money-making proposition. It was a toll waterway."
In 1918, with the U.S. embroiled in the Great War, a German U-Boat emerged from the water off the coast of Cape Cod and fired on a barge, unwittingly changing the canal's future forever.
"The government temporarily took over operation of the canal, because the canal now became critical for the safe movement of vessels to avoid enemy fire," Gray said.
When the war ended, the government prepared to transfer control of the canal back to its rightful owners.
"And the private company really didn't want it," Gray said. "The company was like, 'Why don't you just buy it? Make me an offer.'"
Eleven million dollars later, the federal government had bought themselves a canal. They eliminated the toll and set about improving it. A huge boost came in the 1930s, with Franklin Roosevelt's New Deal. Hundreds went to work deepening and widening the canal, and constructing new bridges over it.
"We got three bridges that took less than two years to build—the Bourne Bridge, the Sagamore Bridge and our vertical-lift railroad bridge," Gray said. "And all three were built simultaneously."
Today the canal is maintained and operated by the U.S. Army Corps of Engineers, part of a 25,000-mile network of shipping waterways under their purview. Open to traffic 24 hours a day, some 15,000 vessels pass through here every year—from small recreational boats to huge commercial barges, many traveling between Boston and New York, carrying everything from cars to oil.
"We can remove 350 to 400 tanker trucks from I-95 between New York and Boston by floating one barge between New York and Boston," Gray said.
And Gray stresses that, as federal land, the Cape Cod Canal is not just for ships, but for everyone. Acres of wilderness surround the waterway and can be explored on foot. There are paved paths along both sides of the canal, and word is the fishing here is pretty darn good, too.  
"Today the Cape Cod Canal is just this unique blend of natural and engineered environments," Gray said. "You can come here to enjoy riding a bike or fishing for striped bass, while at the same time getting a glimpse of worldwide shipping floating by you."
The Cape Cod Canal, an idea almost 300 years in the making, first became a reality 102 years ago this week.