WGBH's Henry Santoro, host of Henry in the Hub, talks with Boston Chef Chris Coombs 
Henry Santoro: Boston based chef Chris Coombs is having a very busy year. He announced an expansion of his restaurant group recently that now includes Deuxave, Dbar, and Boston Chops is also helping to organize the Forbes "30 Under 30" summit that is happening in Boston in October and his monthly prime wine and dine events at Boston Chops sell out faster than you can imagine, not to mention all the awards that Chris and his team keep racking up and it's a pleasure and a treat to have Chris in our WGBH studios. Good morning Chris.
Chris Coombs: Thanks for having me Henry.
Henry Santoro: Always a pleasure to see you, you know that. Let's start with the expansion of your hospitality group. You announced recently that you are ready to expand, you're ready to grow, what can you tell us about the future?
Chris Coombs: Sure, so I'm really excited, we just have a tremendous team at Boston Urban Hospitality and, you know, we have a great group of people that has a tremendous amount of turnover tend to not leave us so it's time for me to start providing opportunities for some of my team members who really deserve it and my goal is to create one hundred new jobs in the city of Boston in the next twelve months.
Henry Santoro: That's awesome. Come October, several hundred people thirty years old and younger will converge on Boston for the Forbes "30 Under 30" convention. It brings in academics, entrepreneurs, artists, creative types who've made the list. You were one of those creative types a few years ago on the "30 Under 30" list and this year, you are the culinary host of the event, which is to be in Boston, as we said. What do you have up your sleeve?
Chris Coombs: Sure, so we are still in the planning stages but this is a very very exciting event for Boston and that event that's going to be a part of Boston for many years to come here in Forbes and the governor and the mayor have come to an agreement that the Forbes "Under 30" summit is going to be in Boston for at least the next five years so…
Henry Santoro: Well it's so great that the Boston food community is the way that it is. You know, it's such a treat to see a picture of you standing with Jason Santos and they're having dinner at Boston Chops and then you're at their place. It really does my heart well to see this community, this great and really vibrant food community all coming together to help each other out.
Chris Coombs: Well it's been quite the- I think it's been quite the evolution in the Boston food scene and I think it's unique to hear one of my visions about a food scene in general is that "when the tide rises, all boats rise together".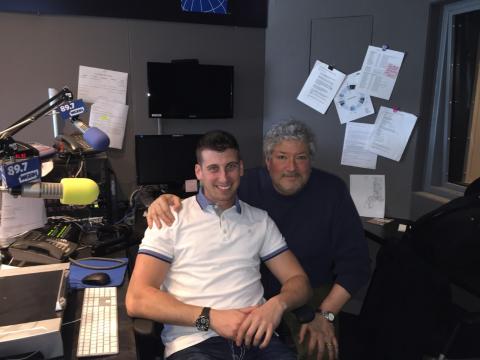 Photo Credit: Marilyn Schairer WGBHnews
Henry Santoro: Boston Chops is one of the premier steak restaurants, not just in Boston, but this is one of the premier steak houses in the country. Tell us about the prime wine and dine dinners that you're doing.
Chris Coombs: We've been really fortunate, Boston Chops, we're in our third year business now and you know Boston Magazine was kind enough to give us the award for best steakhouse in Boston which, you know, when we opened Boston Chops, I really had a vision, an approach as a chef that was different than the traditional steakhouse. Many of the steak houses that you go to, not only in Boston, but, you know, all around the country tend to be set in stone of this like classic formula that is wonderful but doesn't really change, so you know we're really proud of what we do and I think it's a really unique experience
Henry Santoro: And you have the best baked potato on the planet.
Chris Coombs: It's a good potato. You know, you'd be amazed if I told you how many of those potatoes we sell.
Henry Santoro: Chris Coombs owns Deuxave one block outside of Kenmore Square, he's got Boston Chops in the South End, and of course Dbar in Dorchester. Chris, always a pleasure.
Chris Coombs: Great to be here, thank you.
To listen to Henry Santoro's interview with Chef Chris Coombs, a native of Peabody, who at age 11 got his start washing dishes on Boston's North Shore, click on the audio link above.