Boston police are still looking for the killer of 17-year old Raekwon Brown, whose funeral Thursday brought hundreds to the Charles Street AME Church in Dorchester.  The affable teenager, whom many recalled as the kind of guy who would make you laugh, was gunned down yards from Jeremiah Burke High School in front of a pizza shop as dozens of people walked by.  He is credited with saving the life of a 67-year old woman who was wounded as she passed by.  The June 8th shooting occurred at the height of the day at 1pm.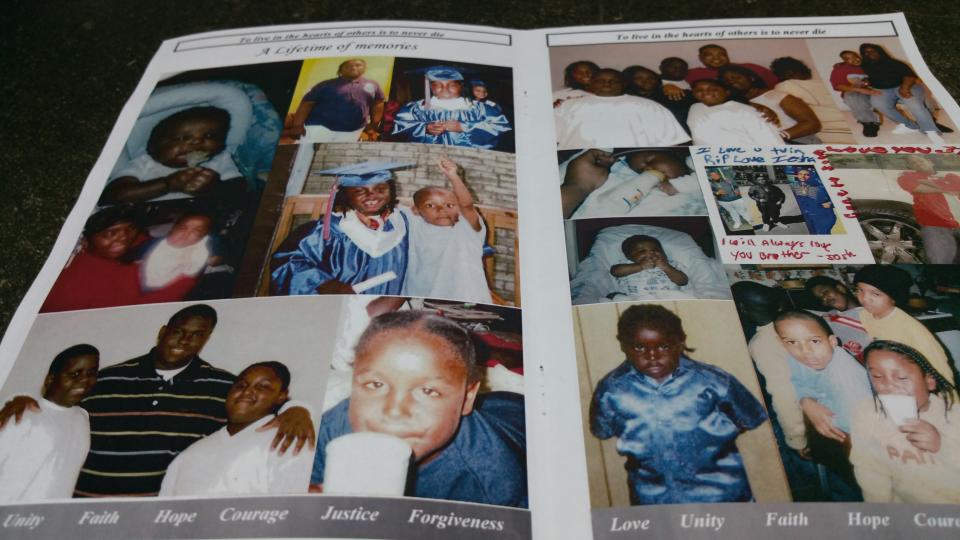 Photo Credit: Phillip Martin WGBH Radio
Brown's murder and another in Mattapan this week pushed the city's homicide rate upward, but nowhere near the number in the early 1990's.   Still, that has not stopped some area residents from fearing a return of the bad old days.
From the pulpit, the Rev. Dwayne Frazier –a former gang banger who used to carry a grudge and a 12 gauge shotgun—recalled the time in Boston's history when ministers, street workers and police helped return the streets back to the community—the so-called Boston Miracle.   And he called on mourners at Brown's funeral to push back against violence lest these neighborhoods revert to a time when gangs ruled entire blocks. But with homicide rates climbing, some, like Mike Boston,  fear those days are already here: 
"Those are like the days that I remember most."
Boston, a youth worker with ROCA, wiping away tears at the end of the service for his cousin Raekwon, says he's hearing that a lot from those old enough to remember.
"And it feels like Boston is slipping back into that kind of groove from the time there was a lot of murders happening, especially with young people."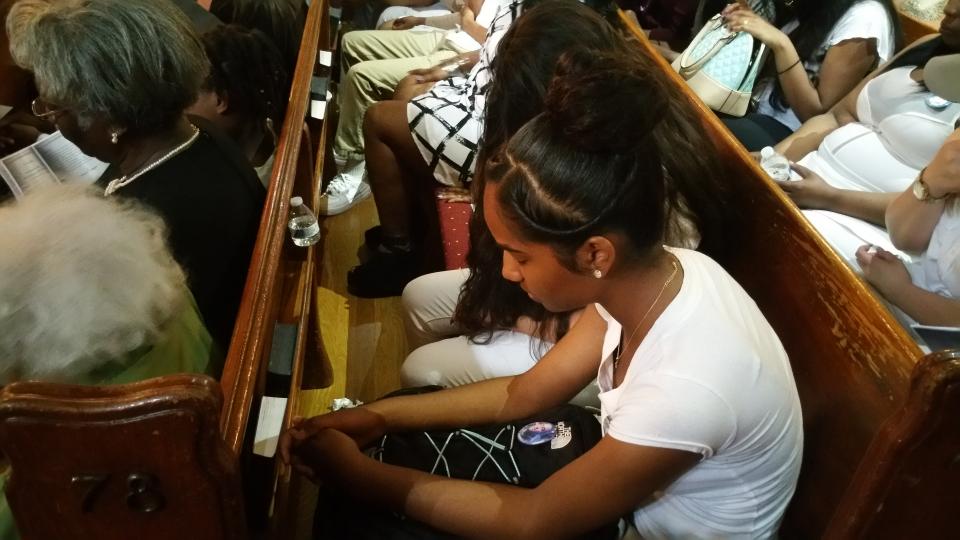 Photo Credit: Phillip Martin WGBH Radio
City Councilor Tito Jackson certainly has not forgotten.  "I was a sophomore in 1990 and I remember it was a very scary time."  
And what City Councilor Tito Jackson found scary in 1990, a current sophomore at Jeremiah Burke High School named Dasia  finds just as terrifying today.  She was Raekwon's friend and can not make sense of his death:
"It does make me concerned, and it makes me worried that it can be, it can be anybody next." 
By September 1990, Boston had recorded 100 homicides, which was equal to the number of killings in all of the previous year.  Politicians and ministers walked the streets of the city's most  gang  troubled  neighborhoods of Mattapan, Roxbury and Dorchester.  Some, like former city councilor Charles Yancey are still walking these neighborhoods and he told WGBH that he feared the city may relapse.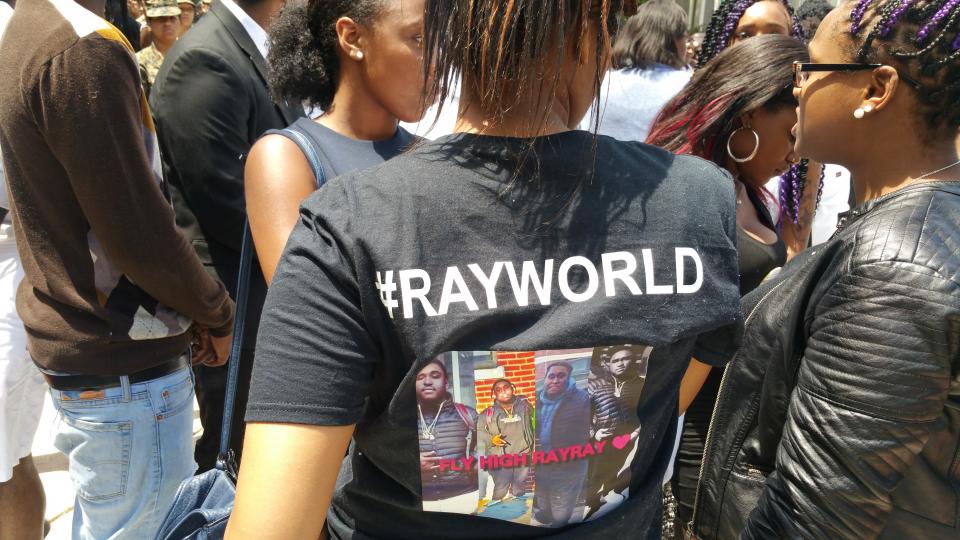 Photo Credit: Phillip Martin WGBH Radio
"I think that risk is ever present and it would be so unnecessary, but it could be a reality before we know it if we don't take more dramatic steps not only to prevent crime but to solve crime…because we have to bring those folks to justice." 
But Boston Police Commissioner William Evans says comparing current homicide rates to those of the 1990's makes little sense.
"Please, last year we had thirty eight homicides, a 16 year low.  This year we're having another good year. Obviously 13 homicides is way too many, but compared to other cities, Boston's doing very well when it comes to violence, so one bad day doesn't equate to a city out of control." 
And even the most recent slaying— that of 31-year old Marcus Hall outside a barbershop in Mattapan this week should be put in perspective said Police Chief Willie Gross. 
"This does not appear to be a random act of crime."
No one seems to know what's spurring the most recent killings.  Some are considered gang-related but Raekwon Brown's—by all accounts— was not.
==============================================================================================
Jeremiah Burke High Principal, Dr. Lindsa McIntyre commenting on Raekwon Brown: 
===============================================================================================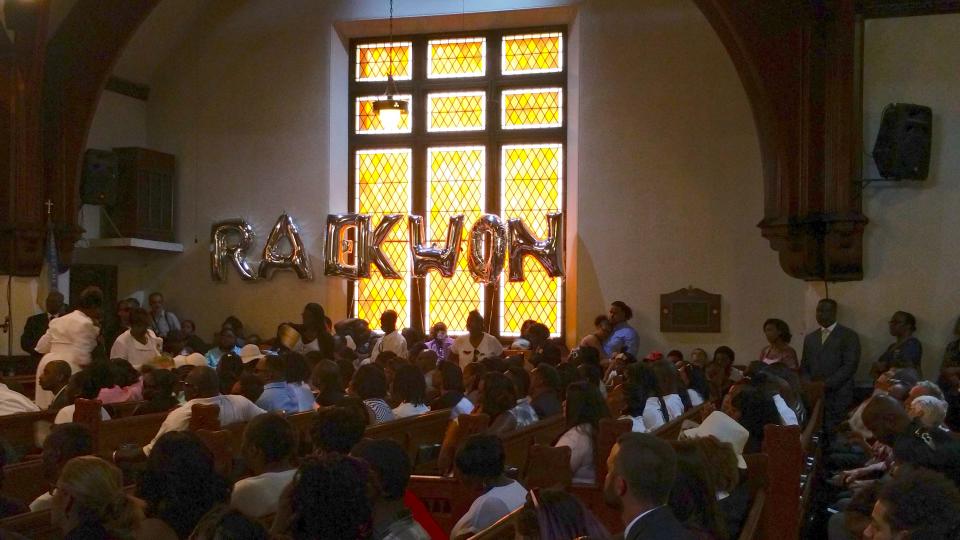 Photo Credit: Phillip Martin WGBH Radio
City Councilor Tito Jackson says he hopes the 17 year old's funeral will serve as a wake up call for city officials:
"The conditions in neighborhoods have to change…. so we can not be here again." 
During the service, Reverend Frazier looked around the church and asked if there were any gang members in attendance.  If so, he said, just know that the community will no longer "play your games."  We are not going back, he said.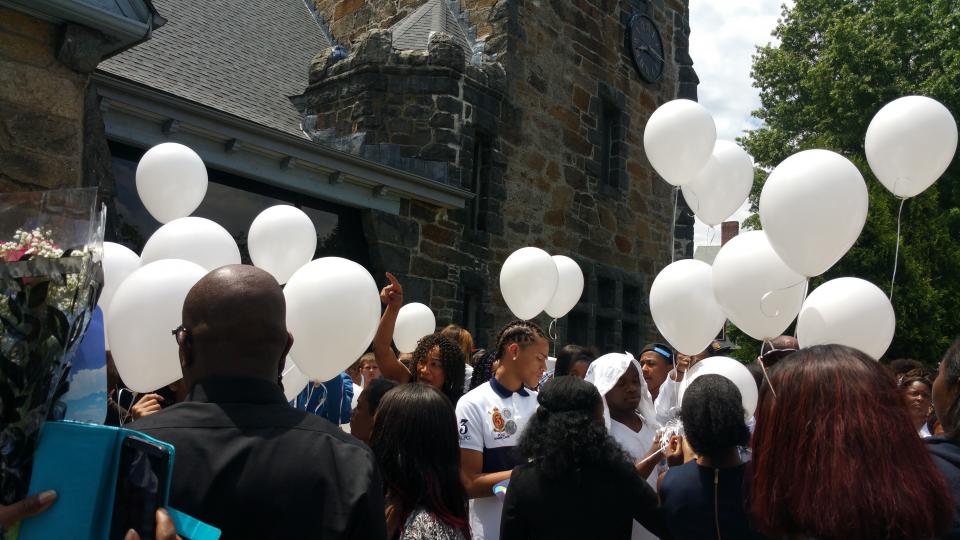 Photo Credit: Phillip Martin WGBH Radio