Boston homicide detectives are still reviewing video and parsing clues to determine who murdered a Jeremiah Burke High School student in broad open day light last week. Seventeen-year-old Raekwon Brown was shot dead after walking out of the school with classmates after a fire alarm was pulled. Police have asked the public's help in identifying the killer, but say that a culture of "no snitching" is hampering the investigation.
A framed picture of Brown, known as Ray Ray, rests amongst a cluster of candles and flowers at a makeshift memorial in front of the pizza shop near where he was gunned down—just yards from Jeremiah Burke High.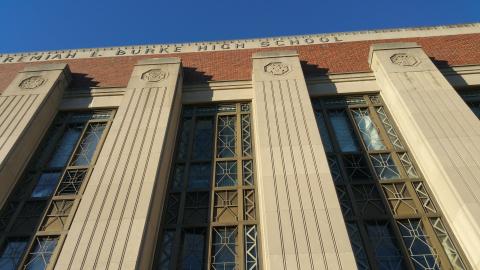 Photo Credit: Phillip Martin WGBH Radio
Near this spot, Boston Police Commissioner William Evans sought to reassure residents.
"We'll get who's responsible but I would hope that anyone who knows anything steps up and helps us solve this one, because again, if anything, let's bring some justice for the mom and dad," Evans said. "We met with them and told them we'd do our best to get justice for their son."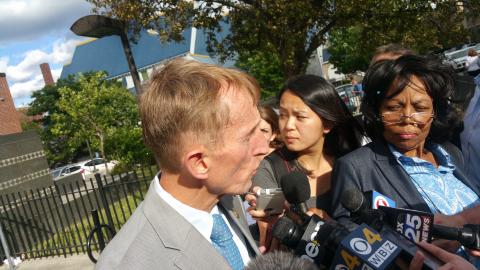 Photo Credit: Phillip Martin WGBH Radio
Information, according to police sources, has dripped in slowly, but hasn't led to an arrest. Jose—an 18-year-old circling the memorial on his bike—isn't surprised.
"I mean, whoever did it, it would be a bad idea to snitch on 'em," he said.
Jose stopped to explain.
"You don't know what's behind it," he said. "It goes both ways. It goes both ways."
I asked Jose: If he who knew did it, would he tell? 
"Nah, I wouldn't, because that's coming right back to you," he said. "It goes both ways." 
Evans says the police are doing all they can to make sure kids feel safe talking to them.
"We work with the [district attorney] to make sure people who come forward are well protected," he said. "You can call our anonymous tip line if you don't want to make yourself known. That's 1-800-494-TIPS. We'll make sure you're well protected. And nobody knows who you are."
That may be the key, though trust is in short supply. There have been many homicide cases in Boston in which witnesses have been intimidated, threatened, assaulted, and in some cases, murdered. In a parking lot near a notorious intersection in Dorchester, I met Henrique—another young resident who also would volunteer his first name only.
I asked him if there were a hotline, would he call it, if he had information that might help solve this case? 
"Yeah, yeah, if it's anonymous, yeah," he said.
But 900 murders since 1970 remain unsolved in Boston, with many of them concentrated in Roxbury, Dorchester and Mattapan. Last week an activist group, Women Survivors of Homicide Movement, rolled out a new billboard campaign in Roxbury's Humboldt Avenue area called "Can I Get a Witness?" aimed at getting people to come forward with information.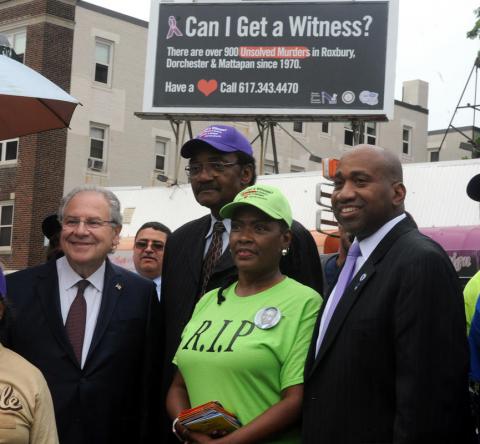 Photo Credit: Jim Michaud Boston Herald
There are few people who want Brown's case solved more than Mike Boston.
"He's my cousin," Boston said.  
Boston has been keeping the candles lit at his cousin's memorial. Many youth in this area know him. He is with the organization ROCA, which works with 17-to-24-year-old men to try to interrupt the cycle of violence and to keep them out of, or from returning to, prison. Boston said the reasons for not snitching are far more complex than just fear. I asked him: If people know something about this case, should they should tell? 
"Well, I won't comment," he said, "because I'm in a position where I've got to be neutral, because I'm in a position where I work with young men, and if they think I'm in that mindset, then they won't let me help them in the way that I probably can."
Not snitching is a long tradition that crosses cultures, from the Italian Mafia to the code of silence in Charlestown and South Boston that left many crimes unsolved. Boston said it's a cultural trend that he sees as problematic.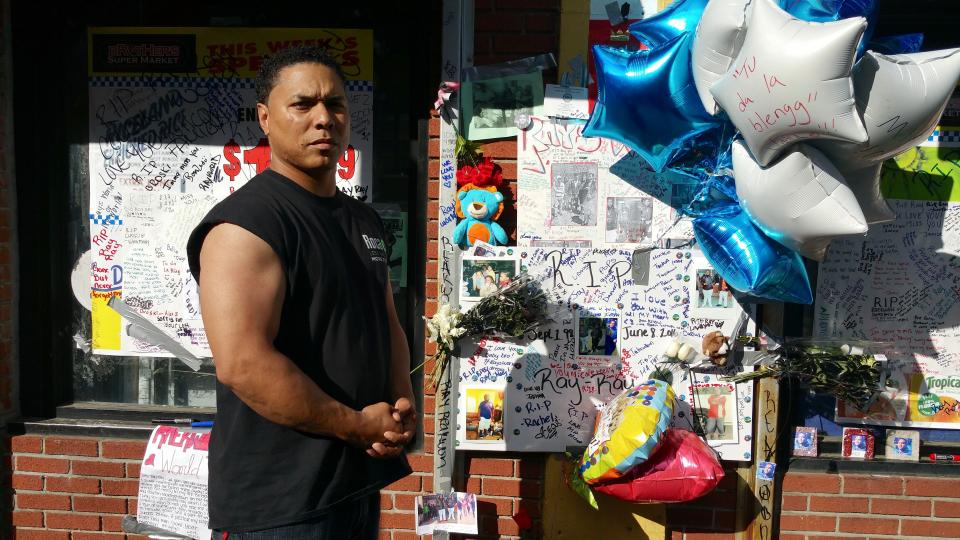 Photo Credit: Phillip Martin WGBH Radio
"What's fueling that is what you see what's going on with police," he said. "They're overreacting on a lot of things and you see it resonate with the young people who are on social media. You see police a certain way over and over again and you don't really want to talk to them about anything anyways." 
Like police, he said, who have their own, blue code of silence. Boston said that particular tradition also dissuades potential witnesses from coming forward. Boston said a lot more work is needed to build bridges between cops and kids to solve crimes, including the murder of his cousin, Raekwon Brown.