A group of activists checked a list of Cambridge addresses to make sure they were standing in the right spot, and looked around for the perfect place to post a sign and a little flag.
"The flag up here says, 'The nose knows. Methane gas leak nearby,'" said Leslie Bliss, a member of a group called Mothers Out Front, which is trying to raise public awareness of gas leaks in Massachusetts.
Tens of thousands of leaking pipes are spewing natural gas into the atmosphere all over Massachusetts. And while utility companies pay close attention to leaks that could cause explosions, advocates and lawmakers are calling for gas leaks to be fixed for a very different reason—to reduce their impact on climate change.
"About 20,000 gas leaks statewide," she said, paraphrasing the sign being taped up. "And the cost is being passed on to us, the consumers, and these methane leaks speed up climate change, harm our trees and waste energy."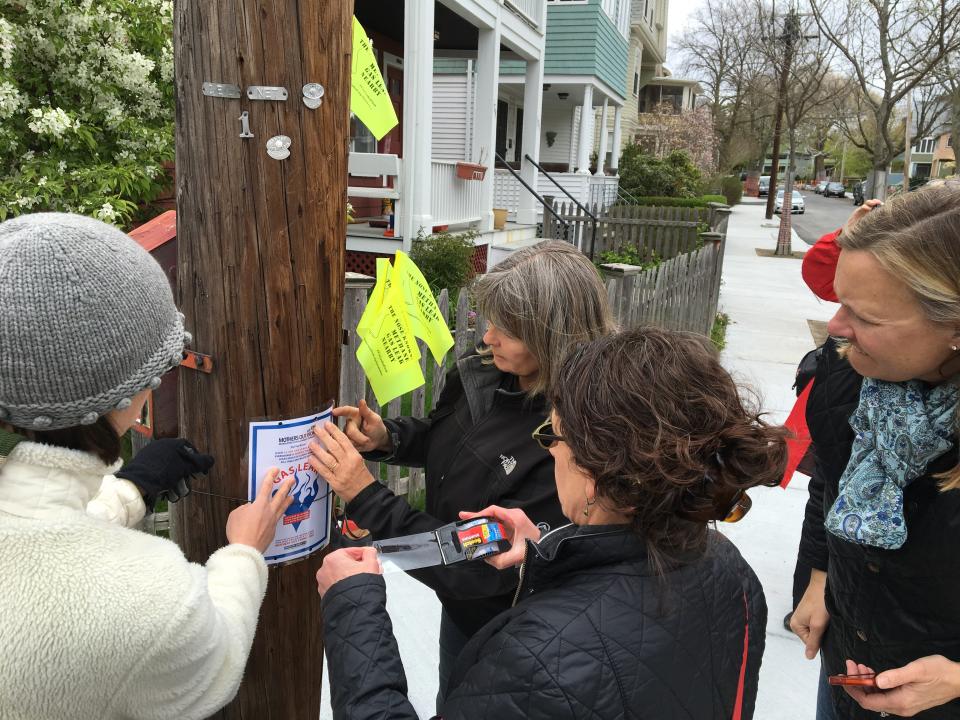 Photo Credit: Craig LeMoult/WGBH
Those are some of the same reasons Boston University Professor Nathan Phillips studies gas leaks. As he biked down the path along the Charles River in Newton, Phillips used a simple yet highly sensitive tools for detecting leaks: his nose.
"I smell it good now," he said as he hopped off his bike and pointed to a clear sign of a leak in the vegetation along the road. "You look down there you see lots of green grass and then it gets really dry and dead, and then it picks back up again."
Brookline, Hingham, Saugus, and Milton have all filed lawsuits against natural gas utilities over dead trees allegedly caused by gas leaks.
"About 2.7 percent of the gas that's delivered to the state is leaked into the atmosphere," Phillips said. That estimate comes from a 2015 study BU did in conjunction with Harvard and Duke Universities. That might not sound like a lot, but Phillips said methane is a powerful contributor to climate change.
"If you take that same amount of lost gas, it would amount to about 10 percent of the Commonwealth's greenhouse gas emissions inventory from all sectors," he said.
Gas companies give leaks a grade of 1 to 3, with the ones posing an threat of explosion that needs to be fixed immediately. Most leaks are a grade 3, which aren't an explosion risk, and the companies aren't required to fix them. Phillips wants to see a new grade of gas leak that would have to be fixed right away.
"We call it a climatic grade 1," Phillips said. "That would be a leak, maybe like right here, that doesn't pose an immediate explosion risk, but may be losing a lot of gas."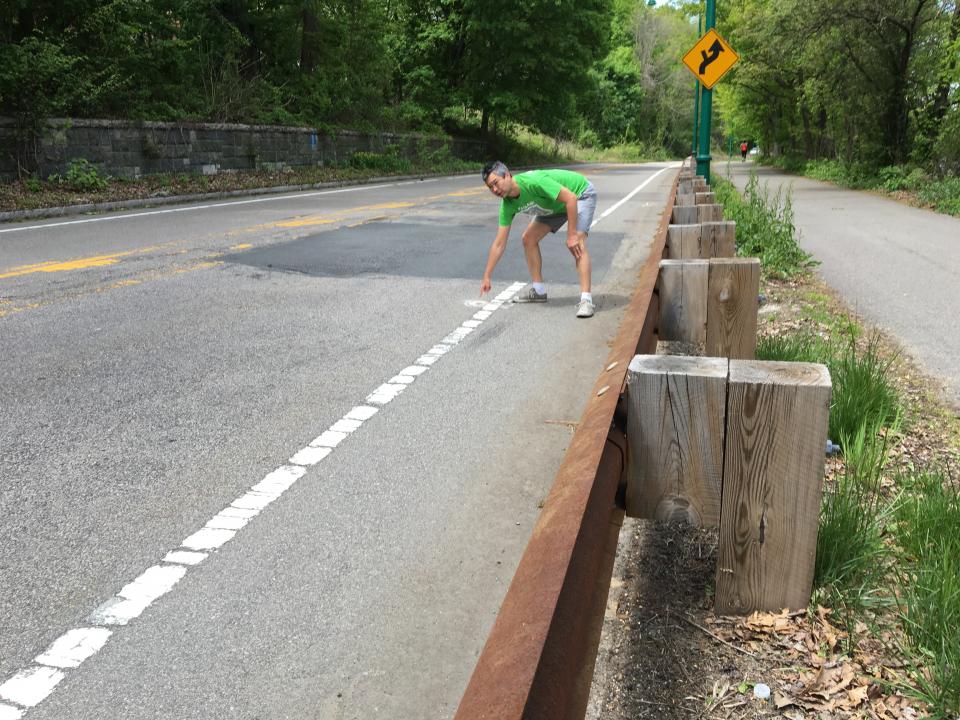 Photo Credit: Craig LeMoult/WGBH
Phillips says the utilities need to replace aging metal pipes with new, more durable plastic ones, but they don't have a strong incentive to fix leaks when they can just bill customers for lost gas. State Rep. Lori Ehrlich proposed legislation that would have stopped that practice within five years, but the bill didn't go anywhere. Ehrlich has proposed another gas leaks bill, still under consideration, that would require gas companies to fix leaks when roads are dug up for municipal road projects. Too often, she says, that's not happening now.
"Sort of like a patient on an operating table," Ehrlich said. "The surgeon opens up a patient and finds that there's an artery that's gushing, and just saying, 'Oh well, that wasn't what I was hired to do,' and closing up the patient without making the necessary repairs."
Tom Kiley, CEO of the Northeast Gas Association, said Massachusetts companies are spending hundreds of millions of dollars to replace leak-prone pipes. The NGA is against the proposed legislation. A state environmental report says the amount of methane emissions in Massachusetts fell by more than 60 percent between 1990 and 2012.
"So here we've grown, we've added a lot more customers, we've converted tens of thousands of customers from other fuels to natural gas here in the Commonwealth, yet in that same period there's less emissions from the natural gas system,"  Kiley said.
And Kiley said they're committed to doing more, but the process can be slowed down by cities' and towns' resistance to having their streets dug up. Still, Kiley says utilities have a schedule to replace all of the state's leak-prone pipe within 20 years.
Environmentalists say with methane leaking into the atmosphere and contributing to climate change every day, 20 years is too long to wait for a fix.