The seemingly eternal question, "How can we finally make better use of Boston City Hall Plaza?" got one step closer to being answered in recent days. Delaware North, the company that owns the TD Garden and whose chairman owns the Boston Bruins, has won a bid from the city of Boston to reimagine the vast brick flatland in the heart of downtown.
Among the ideas floated in the proposal are a restaurant with a beer garden, an "urban beach" in summer, and an ice skating venue in the winter. But what really jumps off the proposal page is the idea that the plaza get its own Ferris wheel. If it seems a whimsical choice, consider that having a Ferris wheel is becoming something of a requirement for any "world-class" city.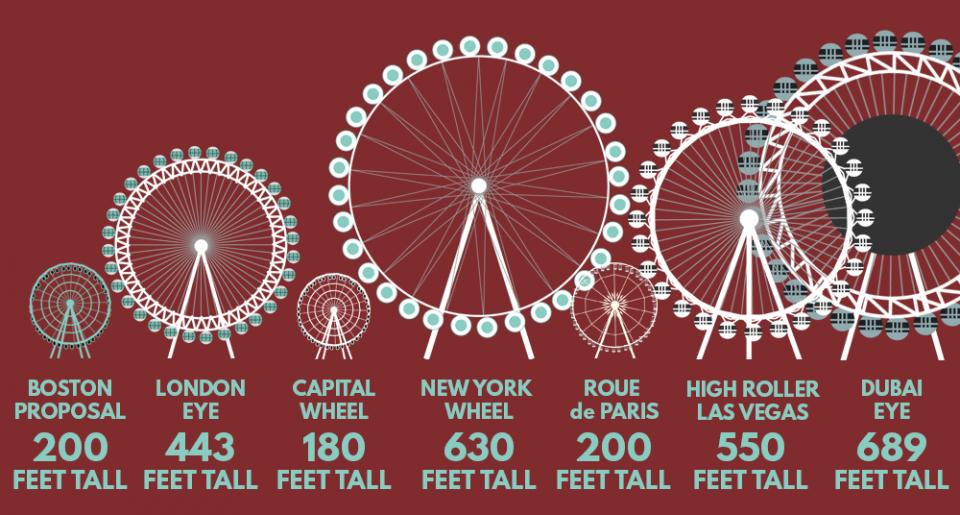 Photo Credit: Brendan Lynch WGBH News
Boston is just the latest in a lengthening line of cities swept up in a worldwide Ferris-wheel renaissance. While cities like Chicago (where the Ferris wheel was born) and Osaka, Japan built wheels in the 1990s, the real catalyst came at the turn of the millennium, when the 443-foot London Eye, then the world's largest Ferris wheel, debuted over the banks of the Thames River on New Year's Eve.
Since then, the world's 13 largest Ferris wheels have been constructed. Most not in amusement parks, but in major cities—from Singapore and Melbourne to Myrtle Beach, S.C. and Niagara Falls, Ont. And these 21st century "observation" wheels are a far cry from the rickety, open air carnival ride you might remember as a kid.
"I think the hardest part that people have is they're scared to ride because they think it's a roller-coaster type of experience and it's not," explained Bruce Gudenberg, vice president of marketing for the National Harbor outside Washington, where the 180-foot Capital Wheel debuted in 2014. "It's like riding a glass elevator. Its air conditioned, its heated, it's a great experience and its kind of a fun thing to do."
The Capital Wheel seats up to eight people in each of it's 42 enclosed gondolas. A 15-minute ride offers panoramic views of the harbor, old-town Alexandria, and Washington's myriad of landmarks, including the Washington Monument, the National Cathedral and Dulles International Airport. Gudenberg says the wheel has exceeded all expectations, and been a hit with everyone from families to the business class to tourists.
"Ridership has come in all shapes and sizes," he said. "It's a great date night—we have many different proposals that have happened on the wheel."
On Las Vegas's High Roller, opened in 2014 and currently the world's largest at 550-feet, you can book a private happy "half-hour" with an open bar, or—of course—get married (no word on whether you can also get a quickie divorce). And back in D.C., they're even bringing the experience into area classrooms.
"There's a STEM [science, technology, engineering and math] program that's being worked on to understand what a wheel means, what it takes to put one up, and kind of help from an educational perspective," Gudenberg said. 
But this Ferris wheel renaissance is not without it's issues. In Vegas, ridership was well below projections in the first year of operations for the High Roller. In Florida, 66 riders were stranded for three hours last summer when the 400-foot Orlando Eye malfunctioned. And on Staten Island, it's been a years-long struggle to get the New York Wheel off the ground.
"We have to go through a full ULURP [Uniform Land Use Review Procedure] approval process, through the community, the local council, all the way up through the mayor's office," said Travis Noyes, Chief Marketing Officer for the New York Wheel. "There's a lot of review that needs to happen when your building something on city land."
Designing and financing the wheel have also proved challenging. Initially slated to open in 2015 at a price tag in the neighborhood of $250 million, costs have ballooned to $500 million and building has still yet to begin in earnest. This might have been foreseen. After all, this is the Big Apple, and they're aiming to build the single largest Ferris wheel in human history – at 630 feet.
"[We'll have] seven million dollars of LED lighting, making it one of the largest visual canvases. Each one of our pods will be as big as a small New York City apartment, so we fully expect to be an icon of New York and frankly the world," said Noyes.
Despite the cost overruns and delays, Noyes is confident they will open in the fall of 2017. Not only does he expect the New York Wheel to be roundly embraced, he also believes it will prove to be a sound investment.  
"Once you start getting it operating it becomes highly profitable, because you pay, basically, up front for most of the big expenses," he said.
Delaware North's proposal for a Boston wheel is not nearly as ambitious. At upwards of 200 feet, it would be in the same class as Seattle's 175-foot Great Wheel (opened in 2012) and Hong Kong's 197-foot Observation Wheel (opened in 2014). In fact, it could look a lot like D.C.'s Capital Wheel. And given what that wheel has done for the National Harbor, Gudenberg thinks it would be a slam dunk here.
"Boston, there's obviously a lot of history there," he said. "The wheel gives you a different perspective of it. It just presents a unique opportunity that people would gladly take advantage of."
Both Delaware North and the city declined to comment for this story, but they have previously stated that the proposal for City Hall Plaza is in the early stages, and there are plenty of hurdles left to clear before any big wheel over Boston begins turning.